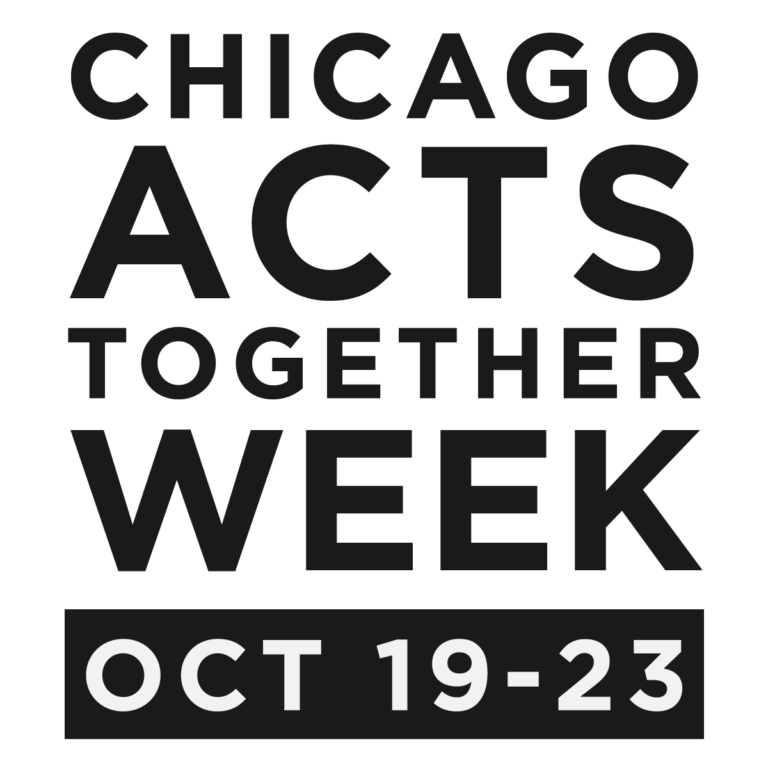 As we are missing the start of the traditional theatre season this fall, we must act together to ensure that theatre survives and thrives in Chicago. The shutdown caused by the COVID-19 pandemic has been especially hard on the theatre community. Theatres were some of the first to close and will be the last to re-open and it is vital that we garner much-needed support for Chicago's theatre industry.
Join the Chicago theatre community October 19-23 for Chicago Acts Together Week as we take actions to ensure a strong and successful future for the theatre industry!
Below is an overview of each day and how you can participate. Follow @ChicagoPlays on Facebook, Instagram, and Twitter for more. Include the hashtag #ChicagoActsTogether when posting on social media!
---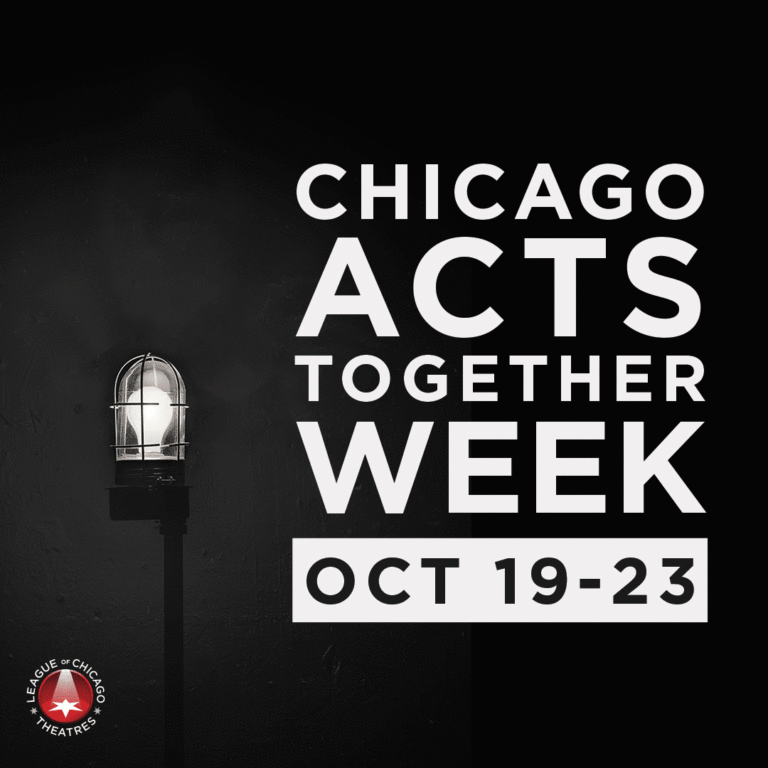 Monday, October 19: We Will Be Back
The past few months have been especially difficult for artists and theatres, but we are resilient. We are still planning and working towards the day that we can be together again to sing, act, dance, write, and create.
While our stages may be dark, our creative spirit is brighter than ever.
Even in these tough times, we seek to keep the spirit of Chicago theatre alive through connecting virtually through online performances and programs as well as creating opportunities to safely bring our community together in-person.
We are Chicago theatre, and we will be back.
What you can do at home:
Watch and share the League of Chicago Theatres' "We Will Be Back" Video
Print, display, and distribute the campaign poster! Send the poster to everyone you think would like to show their pride in Chicago theatre and then post one yourself in a window in your home or office.
---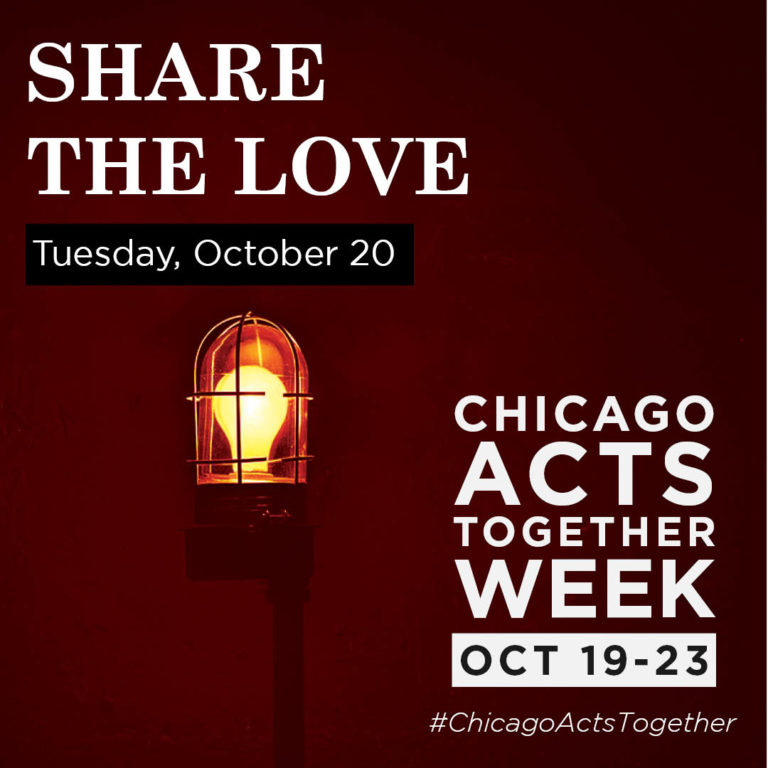 Tuesday, October 20: Share the Love
Even while we are apart, the spirit of Chicago theatre lives on. Today we spread our love for Chicago theatre on social media!
What you can do at home:

Post a photo from your last Chicago theatre experience – in the audience, on the stage, or behind the scenes – and challenge 3 friends to do it next. Tag #ChicagoActsTogether for the chance to be featured!
If you purchased a "Chicago Acts Together" t-shirt from Creatives Who Care earlier this year, take a selfie in the t-shirt, post, and tag #ChicagoActsTogether. Along with the photo, share what you love and miss about Chicago theatre.
---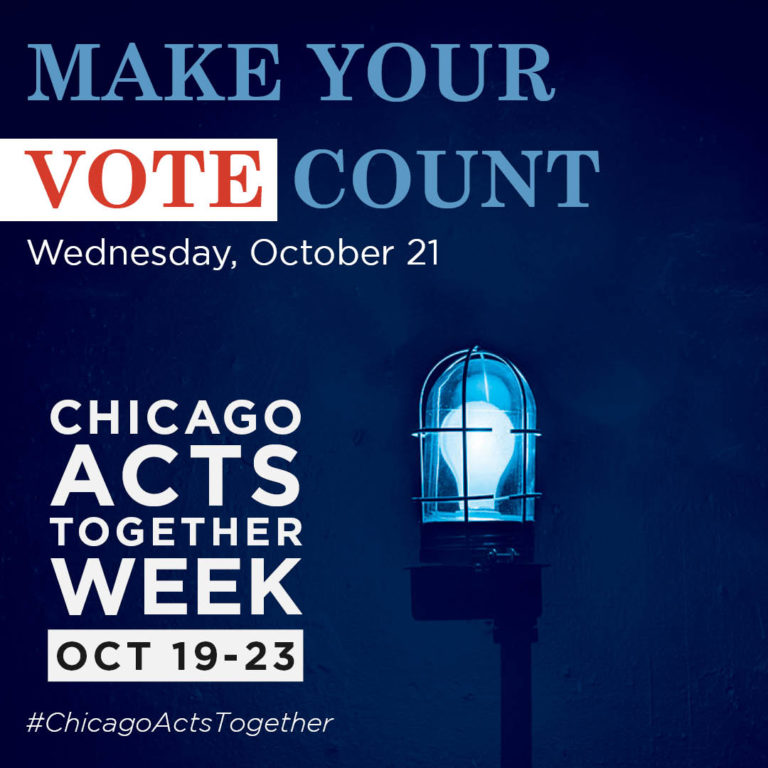 Wednesday, October 21: Make Your Vote Count
Voting is essential in helping to create the future of the arts. Due to COVID-19, voting looks a little different this year. Make your vote count by creating your voting plan, checking the voting deadlines in your state, and encouraging friends and family to do the same!
What you can do at home: 
Take a look at the list of resources below to ensure that you have all the necessary information to cast your ballot.
Check Voter Deadlines By State:
Check Your Voter Registration
Find Your Polling Place
Apply to Become a Poll Worker
Check out these resources from Chicago theatres:
---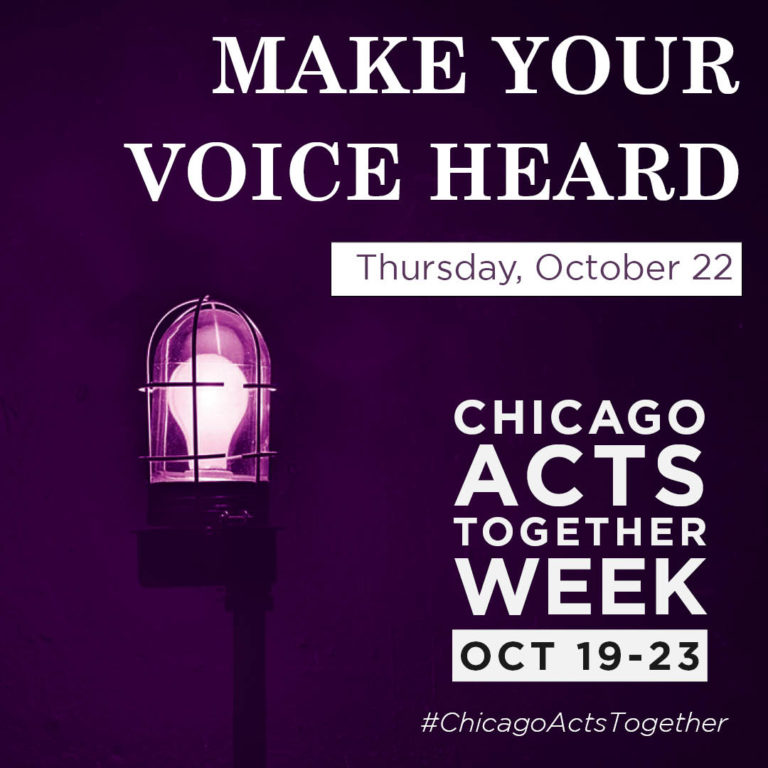 Thursday, October 22: Make Your Voice Heard
COVID-19 has had a devastating effect on the theatre industry. Relief for theatres and Arts workers is imperative to the survival of the theatre industry. Make your voice heard by contacting local officials and advocating for support for the theatre community!
What you can do at home: 
Tell your local officials how important theatre is to you, your city, and your state by writing a unique and personal letter or making a phone call. Use the Arts Alliance IL Legislator Lookup to find out who your local officials are and how to contact them.

Need some ideas? Here are a few topics you may want to address in your letter:

Advocate for additional stimulus payments to help artists and theatre workers who are struggling financially due to COVID-19 and its effect on the theatre community
Advocate for additional unemployment benefits and extended benefits for artists and theatre workers who have lost their jobs
Advocate for national and state relief funding for arts organizations
Include a personal story about how theatre has impacted you and its importance to your city and state

Support the Be An Arts Hero campaign and encourage Congress to pass the DAWN ACT in support of Arts workers across the country. Learn More: https://beanartshero.com/dawn
---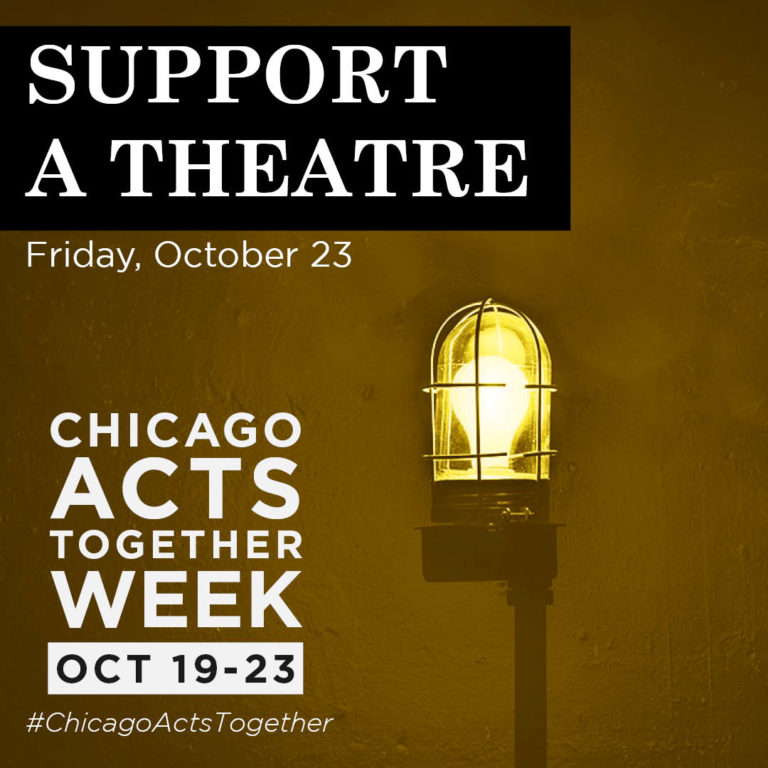 Friday, October 23: Support a Theatre
Theatres are working tirelessly to stay connected to you during this time! You can find upcoming performances and classes on ChicagoPlays.com and HotTix.org. While most theatres aren't able to offer half-price tickets at this time, there are a few half-price virtual events available on Hot Tix in addition to a comprehensive listing of other theatre events.
What you can do at home: 
Purchase a ticket or plan ahead to attend an online performance, buy a subscription or membership, or make a donation to your favorite non-profit theatre. Tell us how you are supporting Chicago theatre by posting a photo and tagging #ChicagoActsTogether.