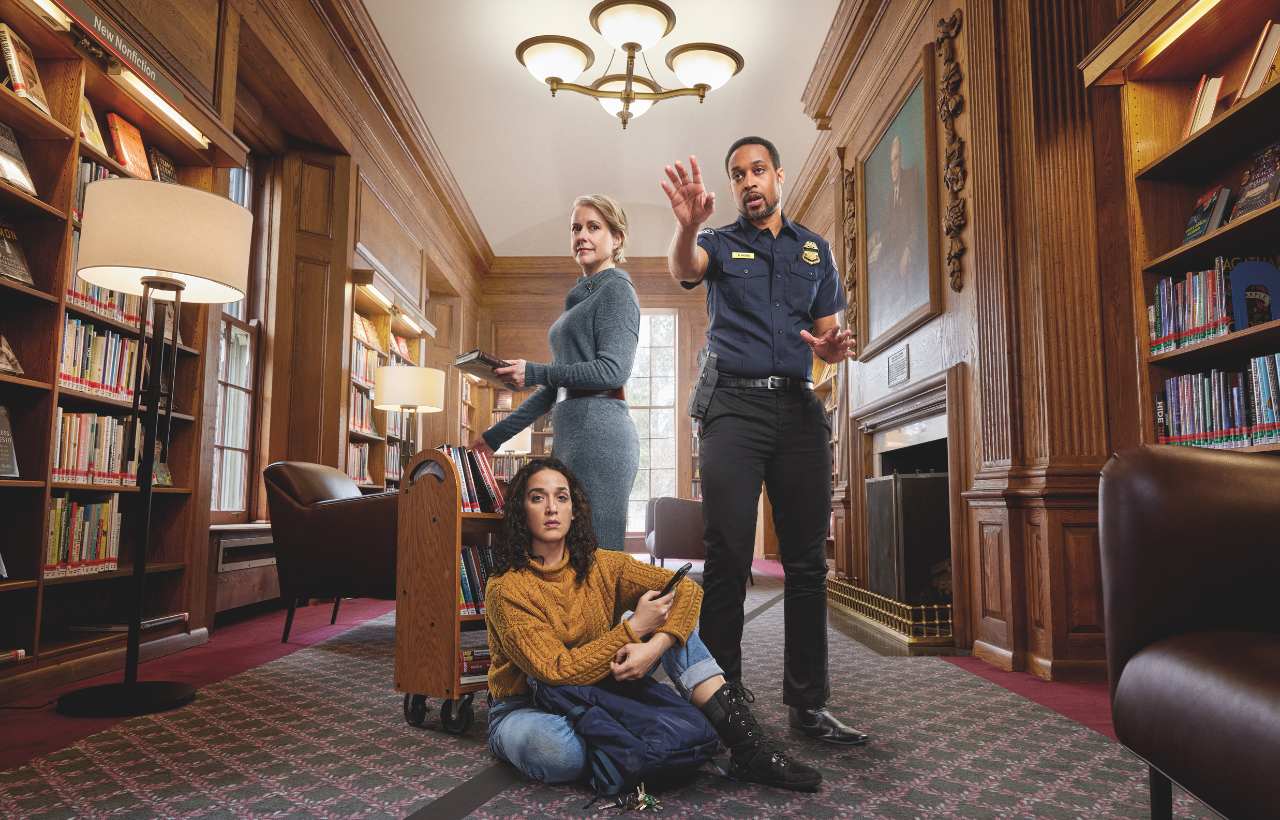 A Distinct Society
The Chicago Premiere
Comedy/Drama
Runs

Jun 22

–

Jul 23, 2023
A quiet library that straddles the border of the U.S. and Canada becomes an unlikely crucible for five people from around the world. When an Iranian family, separated from one another by the "Muslim ban," uses the library as a meeting place, the head librarian, a U.S. border patrol officer and a local teenager must choose between breaking the law and saving themselves.
A TIMELY STORY—NEEDED MORE NOW THAN EVER—ABOUT FINDING EACH OTHER ACROSS BORDERS, BOTH PHYSICAL AND EMOTIONAL.
Inspired by true events, this poignant and funny new play, written and directed by the gifted artist Kareem Fahmy, was a finalist for the National New Play Network's 2020 National Showcase for New Plays. Now making its Chicago debut, A Distinct Society delivers a moving story about the many things—family, food, art, love, and politics—that can either divide or unite us.
CAST
Amir Abdullah* (Bruce)
Rom Barkhordar* (Peyman)
Kate Fry* (Manon)
Cole Keriazakos (Declan)
Aila Ayilam Peck* (Shirin)
Alec Boyd (u/s Declan)
Joshua L. Green (u/s Bruce)
Kelli Harrington (u/s Manon)
Jonathan Shaboo (u/s Peyman)
Shadee Vossoughi (u/s Shirin)
CREATIVE TEAM
Kareem Fahmy (Playwright & Director)
Paige Hathaway (Scenic Designer)
Keith Parham (Lighting Designer)
Izumi Inaba (Costume Designer)
Andre Pluess (Sound Designer)
Rae Watson (Properties Designer)
Sarah Shippobotham (Vocal & Dialect Coach)
Leah Morrow (Choreographer)
Victoria Nassif* (Intimacy & Fight Director)
Hamid Dehghani (Assistant Director)
Katie Klemme* (Production Stage Manager)
*Denotes a member of Actors' Equity Association, the Union of Professional Actors and Stage Managers.