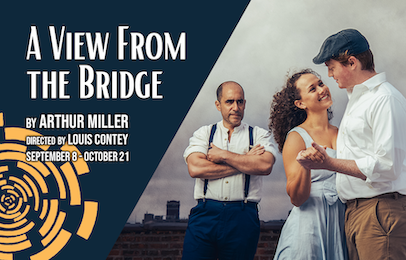 A View From the Bridge
Classic, Drama
Runs

Sep 08

–

Oct 21, 2023
Eddie, a longshoreman, visits a lawyer with a problem: His teenage niece, an orphan who he raised like his own daughter, has fallen in love with an Italian immigrant. The two want to marry, but Eddie must stop them… things are not what they seem. A View From the Bridge at Shattered Globe Theatre revisits a timeless story about desire, the decay of old values, and the yearning for what is lost when you leave home to build something new.
This play is 2 hours, with one intermission.
Mask Policy: Masks are strongly recommended for most performances and will be mandatory for select performances (September 17, October 5, and October 15).
Content Advisory: This play contains depictions of violence.
To view the full content warning, mask policy, or to learn about special events and accessible ticket options for this production, please visit sgtheatre.org/VIEW.
CAST
Scott Aiello (Eddie)
Mike Cherry (Marco)
John Judd (Alfieri)
Chris Martin (Tony/Louis/Immigration Officer)
Isabelle Muthiah (Catherine)
Eileen Niccolai (Beatrice)
Adam Schulmerich (Mike)
Harrison Weger (Rodolpho)
Understudies include: Norm Woodel, Adam Schulmerich, Juliana Liscio and Ben Perry.
CREATIVE
Arthur Miller (playwright)
Louis Contey (director)
Shayna Patel (set designer)
Jessica Gowens (costume designer)
Shelley Strasser (lighting designer)
Jeffrey Levin (sound designer)
Jamie Auer (props designer)
Sammi Grant (dialect coach)
Gaby Labotka (intimacy and fight director)
Adrian Luka Tirado (scenic charge)
Tina M. Jach (production stage manager)
Becca Smith (assistant stage manager, also playing the walk-on role of Submarine)
Majel Cuza (production manager)
Devonte Washington (assistant production manager)
Hunter Cole (technical director)
Sylvia Gamber (assistant technical director)