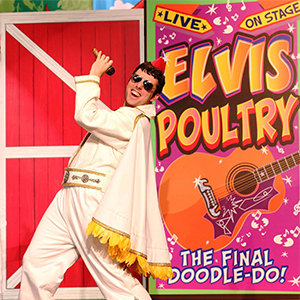 ArtsPower presents
Chicken Dance
Pfeiffer Hall
310 E. Benton Ave.
Naperville, IL 60540
Children's/Family
very barnyard has its bully! But two of the barnyard's chickens, Marge and Lola, will not stand idly by. ArtsPower's musical portrays the colorful story of these two barnyard chickens on a mission to win the barnyard talent contest first prize of two tickets to see the great Elvis Poultry in concert! But first, they must present a performance that will score higher than a flock of very talented ducks, led by Mac who loves to play the bully. Can Marge and Lola face their challengers, against all odds, and win the talent contest? Chicken Dance has been cited with the following honors:
* 2009 National Parenting Publications Gold Award
* 2009 ABC Best Books for Children
* 2009 Book Choice for Oklahoma Celebration of Reading
* 2010 Winner of the Oklahoma Book Award
* 2010 Chicago Public Library Best of the Best Book
* 2010 Book Choice for Read Across Oklahoma
* 2010 Nominee for the Wyoming Library Association Best Book
* 2011 Nominee for the Grand Canyon Reader Award
* 2011 Winner of the Donna Norvell Award.
Call us at 630-637-7469 or buy your tickets Here
Venue: Pfeiffer Hall
310 E. Benton
Naperville, IL 60540