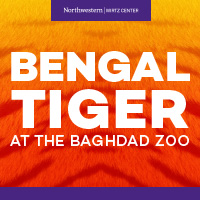 Bengal Tiger at the Baghdad Zoo
Drama, In-Person, Indoor
Runs

Apr 22

–

May 01, 2022
BENGAL TIGER AT THE BAGHDAD ZOO
By Rajiv Joseph
Directed by Hamid Dehghani
April 22–May 1, 2022
Josephine Louis Theater
20 Arts Circle Drive
Fri., 4/22 @ 7:30 p.m.       Thurs., 4/28 @ 7:30 p.m.
Sat., 4/23 @ 7:30 p.m.       Fri., 4/29 @ 7:30 p.m.
Sun., 4/24 @ 2 p.m.            Sat., 4/30 @ 7:30 p.m.
Sun., 5/1 @ 2 p.m.
Two U.S. Marines and an Iraqi translator are thrust into a world of greed, mystery, and betrayal after encountering a very angry tiger that escaped from the zoo. The streets of war-torn Baghdad are filled with ghosts and riddles in this wryly funny ground-breaking play that explores the power and perils of human nature. "A gripping, ferocious new drama…Refreshingly topical and stylistically daring, Bengal
Tiger never loses its sense of wonder or humor," Time Out New York.