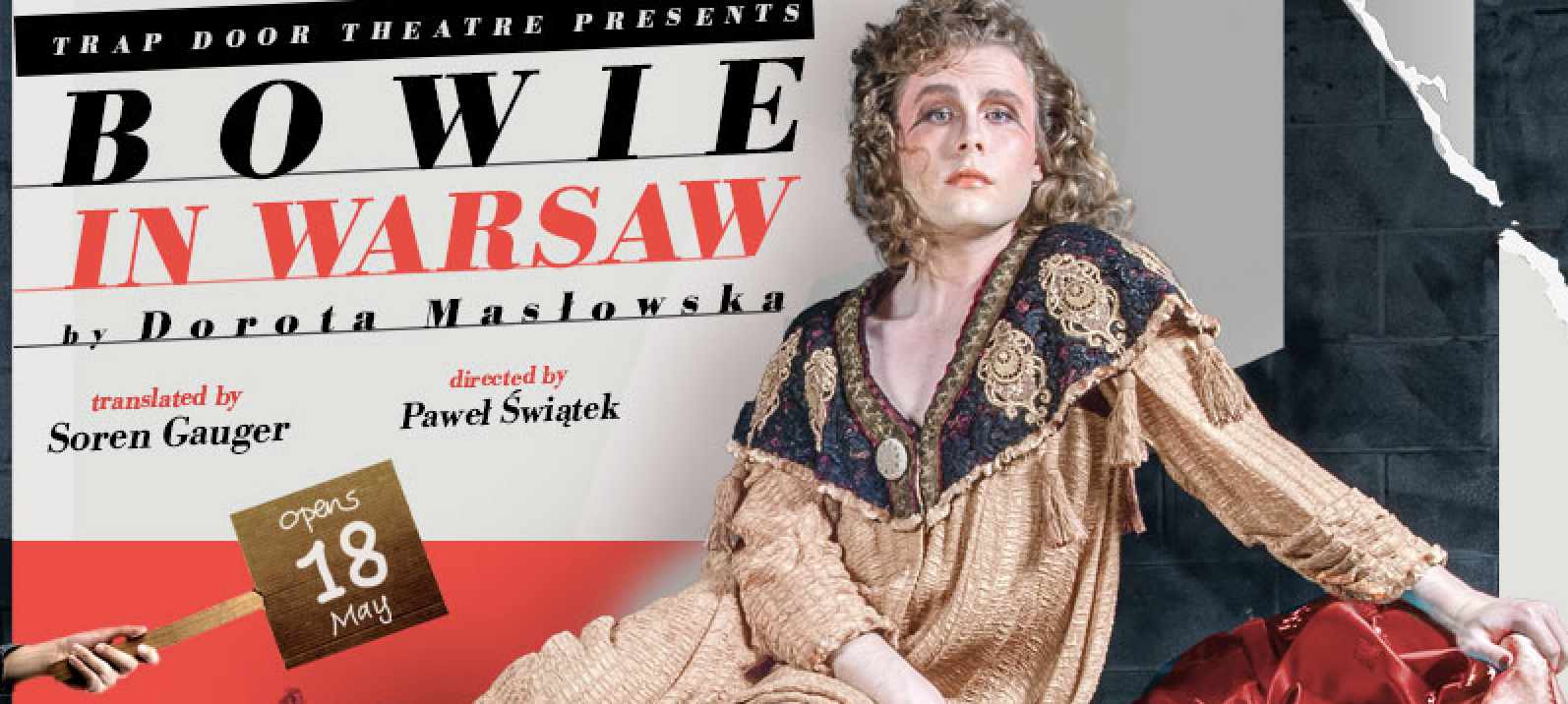 Bowie in Warsaw
Comedy/Drama, New Work
Runs

May 18

–

Jul 01, 2023
Trap Door Theatre is thrilled to round out its 29th season with the US premiere of Bowie in Warsaw, Dorota Masłowska's absurd comedy about freedom of self expression in Soviet era Poland. This new translation by Soren Gauger was exclusively commissioned for Trap Door Theatre. Directed by guest director from Poland Paweł Świątek, Bowie in Warsaw will play May 18 – July 1, 2023 at Trap Door Theatre, 1655 W Cortland St. in Chicago. Tickets are now on sale at trapdoortheatre.com or by calling (773)-384-0494.
The women of Warsaw tremble with the rumor of a strangler on the prowl… Set in the landscape of a true crime story from 1970's Poland, Bowie In Warsaw is an absurd comedy about the repression of self expression and love in a Soviet era Poland. Playwright Dorota Masłowska creates an atomic-era Polish landscape, which might even inspire a visit from David Bowie himself. Trap Door is honored to invite Polish director Paweł Świątek to direct our third Dorota Masłowska play after our successful productions of A Couple of Poor Polish Speaking Romanians and No Matter How Hard We Try. Dorota Masłowska is one of Poland's most exciting and influential young novelists and playwrights.
The US Premiere of Bowie in Warsaw
Written by: Dorota Masłowska
Translated by: Soren Gauger
Directed by: Paweł Świątek
The cast includes Holly Cerney, Emily Lotspeich, Miguel Long, David Lovejoy, Laura Nelson, Emily Nichelson, Tia Pinson, Keith Surney, and Bob Wilson.
The production team includes Anna Klos (Stage Manager), Merje Veske (Scenic Designer), Richard Norwood (Lighting Designer), Rachel Sypniewski (Costume Designer), Danny Rockett (Original Music and Sound Designer), Syd Genco (Makeup and Hair Designer), Milan Pribisic (Dramaturg), Emily Townley (Dramaturgy Intern), Tom McLees (Production Intern), and Michal Janicki (Graphic Designer).