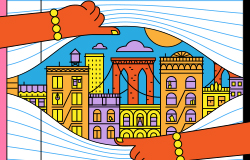 Brooklyn Bridge
Children's/Family
Runs

Jan 16

–

Feb 22, 2020
Follow Sasha as she ventures outside the boundaries her immigrant mother has set for her and into the maze of her Brooklyn apartment building. Sasha meets her mysterious neighbors, and she's convinced there are giants living upstairs! Sasha discovers the power of community as she races to complete her report on the Brooklyn Bridge.
Recommended for ages 7 and up.
Purchase tickets by phone at 312-922-1999 or online at theatre.depaul.edu.
The cast features Jasmine Rush (Alphonsine Mumureke), Kidjie Boyer (Anathalie Mukamazimpaka), Tyra Grove (Marie-Claire Mukangango), Courtney Tucker (Sister Evangelique), Laura Rojas (Girl), Shelby Renfroe (Girl), Jennifer Young (Girl), Tori Thompson (Girl), Justen Ross (Bishop Gahamanyi), Derek Spaldo (Father Flavia), Kamari Saxon (Father Tuyishime), TJ Harris (Nkango).
The production team includes scenic design by Jack Hagen, costume design by Brett Rose, lighting design by Scott Tobin, sound design by Gabriela Cordovi Rodriguez, technical direction by Scott Cavallo, dramaturgy by Isabelle Cheng, and stage management by Ashley Kiser. ​​
by Melissa James Gibson
directed by Coya Paz
January 16 – February 22, 2020
TUE & THU at 10 AM
SAT at 2 PM
FRI 2/7 at 10 AM
SAT 2/8: No Performance​​
SUN 4/9 at 2 PM