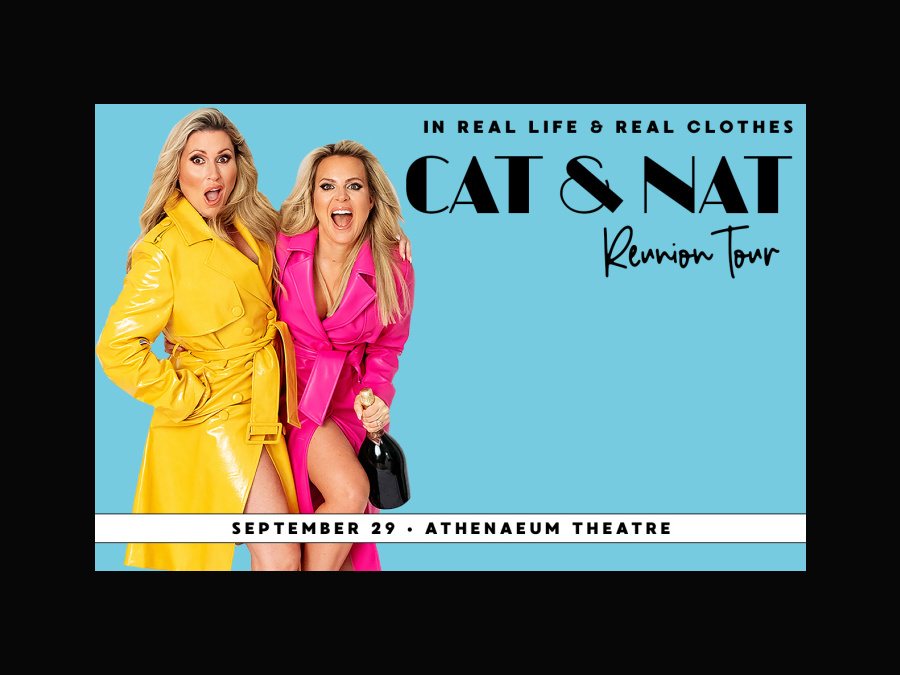 Martin Media presents
Cat & Nat: Reunion Tour
Athenaeum Theatre
2936 N. Southport Ave.
Chicago, IL 60657
Comedy, In-Person, Indoor
What do you do when a global pandemic rocks the entire world and forces you into lockdown for over a year? Well, if you're Cat & Nat, you plan the most epic Reunion Tour imaginable. This is not just the girls' night you've needed since 2019… This is the most hilarious and highly entertaining comedy show that any woman or mom will ever experience in their lifetime, hosted by the two most honest, unfiltered, pee-your-pants funny moms on the planet. They've sold out theaters. They've performed at over 100 venues across North America. They've brought together a community of women and moms to laugh and cry together. And now Cat & Nat are rounding up their entourage (including their male dancers) and hopping on their tour bus to REUNITE with you at the Athenaeum Theatre! Life's about to get fun again!
THEIR MISSION HAS ALWAYS BEEN TO BRING LAUGHTER AND A SENSE OF COMMUNITY TO WOMEN AND MOMS. With seven kids between the two of them, Cat & Nat know just how lonely and isolating motherhood can be. So, they set out on a mission to bring women and moms together by hosting dinner parties and events – with wine and without babies. The events garnered huge success in Toronto and were talked about all over, leading Cat & Nat to take things to the next level and break into the online world to reach more people and connect women and moms everywhere. Cat & Nat's rapidly-exploding community of like-minded moms tune in every day to watch them rewrite the paradigm of "the perfect mom." With honesty and humor, Cat & Nat dismantle the unrealistic portrayals of motherhood that are often presented throughout social and traditional medias. Through their virally famous #MOMTRUTHS, which have garnered hundreds of millions of views around the world, and their daily Facebook Live show, Cat & Nat share everything moms think but are too afraid to talk about.
VIP Q&A Package:
•One premium reserved ticket
• VIP early entry into the venue
• Exclusive pre-show Q&A session
• Official VIP Laminate