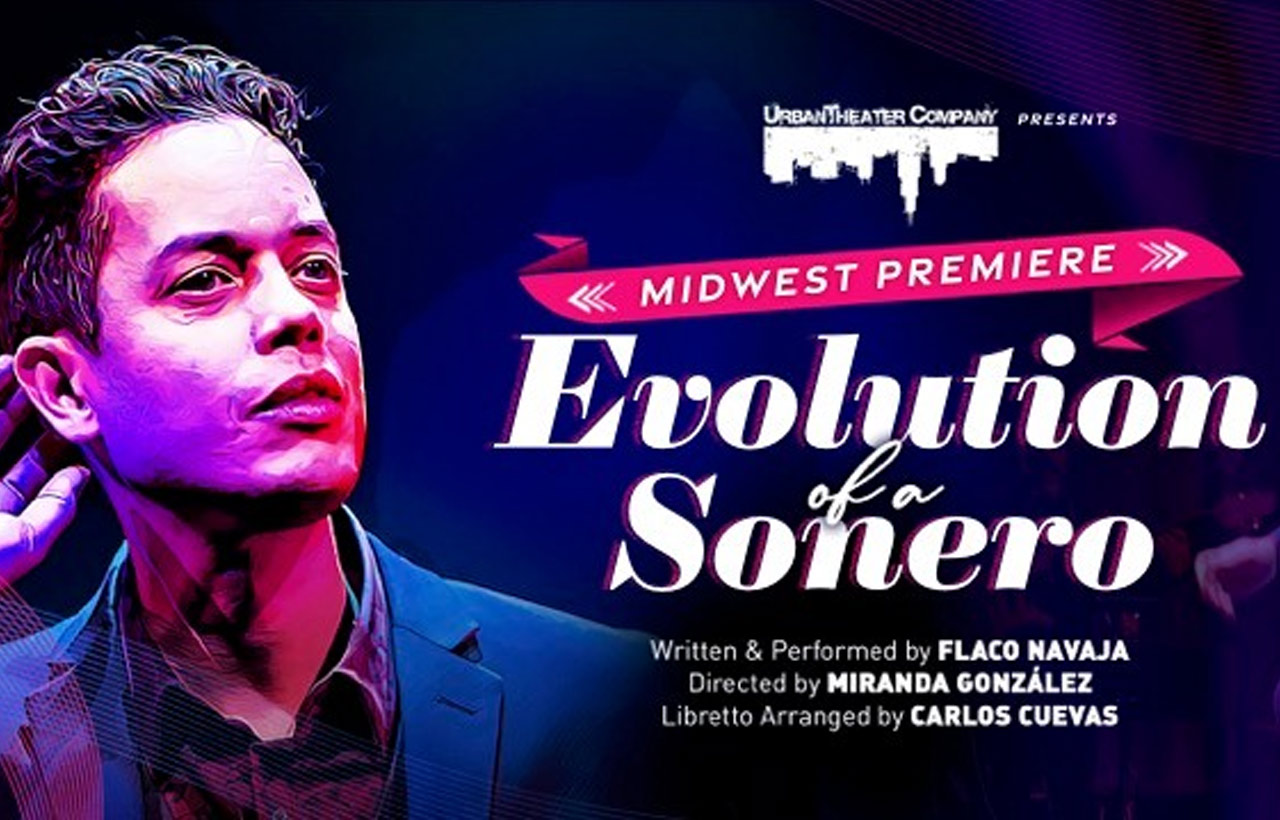 Evolution of a Sonero
As part of Destinos Chicago International Latino Theater Festival
Espanol, Music
Runs

Sep 29

–

Oct 23, 2022
The first full-length solo show by acclaimed artist Flaco Navaja. With unabashed love for The Bronx, a gift for crafting memorable characters, and genuine good humor, Navaja and five top-notch musicians —aka The Razor Blades— bring on the charm, the rhythm, and the soul essential to a Bronx Sonero. Paying homage to many great musical icons —from Janis Joplin to Menudo, from The Doors to Héctor Lavoe, from Jimi Hendrix to Rubén Blades— the play is as much about Navaja's creative evolution as it is about the wild mix that gives life to a rhyme, a people and a culture.
Evolution of a Sonero, el primer solo-show escrito e interpretado por el poeta latino, actor y cantante Flaco Navaja, es un viaje de inspiración y crecimiento personal. Con un amor descarado por el Bronx, un don para crear personajes memorables y humor, Navaja y cinco músicos, conocidos como The Razor Blades, aportan el encanto, el ritmo y el alma vital de un Bronx Sonero. Rindiendo homenaje a íconos musicales, desde Janis Joplin a Menudo, de The Doors a Héctor Lavoe, de Jimi Hendrix a Rubén Blades, la producción retrata tanto la evolución creativa de Navaja como de la mezcla salvaje que da vida a una rima, un pueblo y una cultura.
Performed in English and Spanish.
Run time: 80 mins.
Ages: 15 and older
About UrbanTheater Company
UrbanTheater Company was founded in 2005 by a Latino ensemble deeply rooted in their community and culture. As a platform for multicultural representation in the arena of performance and story-telling, UTC continues to serve as a bridge between artists of all mediums, our varying and respective communities of color and our communities' youth. UTC engages itself in the work of community responsibility and has worked to raise awareness concerning many of the social issues facing our diverse backgrounds.
Cast
Flaco Navaja
Written by: Flaco Navaja
Directed by: Miranda Gonzalez