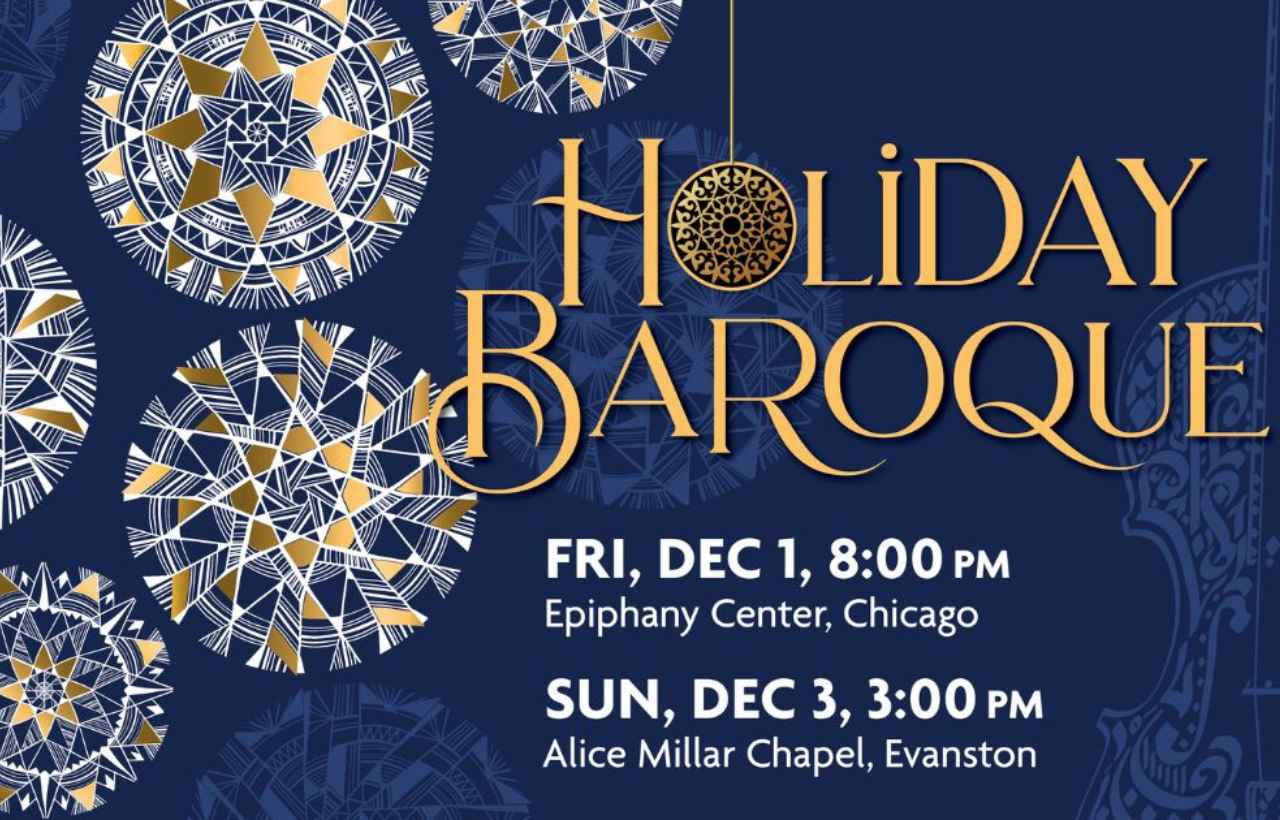 Holiday Baroque
Epiphany
201 S Ashland Ave
Chicago, IL 60607
Alice Millar Chapel
1870 Sheridan Road
Evanston, IL 60208
Music
Runs

Dec 01

–

Dec 03, 2023
George Frideric Handel: "Let the Bright Seraphim" in D Major, from Samson HWV 57
Brilliantly scored for soprano and trumpet, Handel's "Let the Bright Seraphim" is an aria from his oratorio Samson. Hear soprano and local favorite Josefien Stoppelenburg and baroque trumpet Ryan Berndt ring in the season with this grand and festive offering.
The oratorio Samson, drafted while Handel was working simultaneously on Messiah in 1741, is a work inspired by John Milton's poetry. Brilliant arias with trumpet obbligatos were standard practice for moments of grand ceremony and celebration in operas and oratorios, and "Let the Bright Seraphim" comes at the very end of Samson, just before the final chorus. Sung by an anonymous "Israelitish Woman," the aria summons the celestial hosts of seraphim and cherubim to hail the dead hero, with trumpet figures responding to the singer. In the oratorio the aria proceeds directly into the chorus after its contrasting section (without trumpet, in the relative minor mode), but as an excerpt it makes the full da capo return readily. – John Henken, Los Angeles Philharmonic
Antonio Vivaldi: Trio Sonata in C Major, RV 82
Vivaldi's Trio Sonata RV 28, a lute concerto, employs a simple texture of lute, violin, and continuo. It nonetheless commands the listener's attention with a carefree opening movement, dancelike finale, and a serene middle movement showcasing the lute. Featuring Brandon Acker playing archlute.
Handel: "Gloria" in B-flat, HWV deest
A singer's showpiece, Handel's "Gloria" in B-flat is unusual for being a stand-alone section of the Mass and scored for a solo voice.
A note in the Sunday Telegraph on 11 March 2001 announced "Lost work by Handel could rival Messiah / An unknown choral work by Handel that some music scholars believe will come to be regarded as significant as Messiah has been discovered in the library of the Royal Academy of Music", but that was a sensational heading, whereas the article described the work correctly. "Perhaps not too many sopranos will be able to perform this piece.", was a comment of Marx, who had found the manuscript. Curtis Price, the principal of the Academy, testified: "The music is fresh, exuberant and a little wild in places, but unmistakably Handel." It was then believed that the piece was written in Italy in 1707. Emma Kirkby, who performed the first recording, released in May 2001, said that "the piece has individuality and charm, good bravura moments, and, more important, some moments of depth, beauty, and poignancy". – Benjamin Ivry, Christian Science Monitor
Alessandro Marcello: Oboe Concerto in D Minor, arr. piccolo
Venetian musician Alessandro Marcello's Oboe Concerto in D Minor is his best-known composition. It impressed J.S. Bach, who transcribed it for keyboard (BWV 974). An arrangement for piccolo will be heard at Holiday Baroque, featuring longtime friend of Rembrandt Jennifer Gunn.
William Corbet: Sonata No.5 in E Major, Op. 3
Grove Music Online describes William Corbett's music as "characterized by an attractive turn of phrase, a melodic spontaneity and a strong rhythmic sense." The English composer and virtuoso violinist's Sonata No. 5 in E Major features the trumpet, performed today by Ryan Berndt.
J.S. Bach: Brandenburg Concerto No. 5 in D Major, BWV 1050
While flute and violin play leading roles in J.S. Bach's Brandenburg Concerto No. 5, it famously includes a groundbreaking harpsichord solo. Hear longtime Rembrandt collaborator Dr. Stephen Alltop on harpsichord, Jennifer Gunn on flute, and Rembrandt Chamber Musicians conclude our holiday celebration with this beloved and joyous work by the greatest Baroque master, J.S. Bach.
Artists: Josefien Stoppelenburg, soprano; Jennifer Gunn, flute and piccolo; Ryan Berndt, trumpet; Brandon Acker, archlute; Stephen Alltop, harpsichord; Eoin Andersen, violin; John Macfarlane, violin; Carol Cook, viola; Calum Cook, cello; Ian Hallas, bass