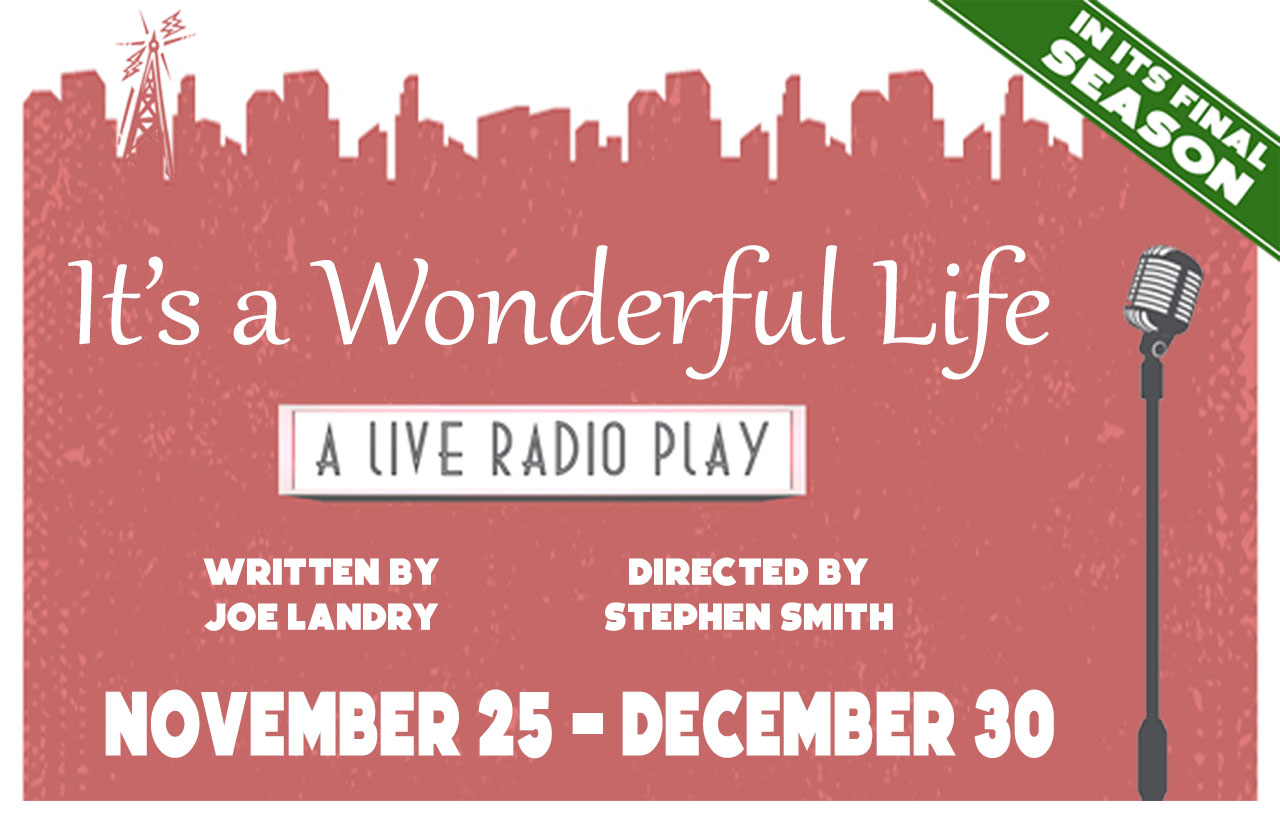 It's A Wonderful Life: A Live Radio Play
Holiday
Runs

Nov 25

–

Dec 30, 2022
The performance runs approximately two hours with an intermission.
Don't miss the final year and production of everyone's favorite holiday tradition, It's a Wonderful Life: A Live Radio Play.  Only seven actors bring the entire town of Bedford Falls to life in a 1946 radio play – complete with sound effects – to tell the story of George Bailey, whose troubles lead him to wish he had never been born. He is visited by the angel Clarence who comes to Earth on Christmas Eve to help George realize how many lives he has touched and just how blessed he has been and how different the world would be had he never been there.
Our intimate Glenview theater space is transformed into the studio of New York radio station WBFR on Christmas Eve in 1946 for this warmhearted adaptation of the famous Jimmy Stewart and Donna Reed film. But at Oil Lamp Theater, the magic isn't only on the stage! Audiences will be captured by the tinsel-and-holly enchantment of a traditional Christmas from the moment they enter the theater. The tree is up in the lobby, holiday music is playing, and complimentary hot chocolate and cookies make for a festive and delightful experience!
CAST:
Connor Green as Jake Laurents
Mary Margaret McCormack as Sally Applewhite
Rose Leisner as Lana Sherwood
Clifford Katskee as Harry Heywood
Tim Kough as Bud Collyer
Matt Schufreider as Freddie Filmore
Caitlin Wolfe as Stage Manager/Sound Effects
Katie Luchtenberg as Sally, Lana, and Stage Manager (U/S)
Jim Banta as Jake and Freddie (U/S)
Bruce Bennett as Harry and Bud (U/S)
CREW:
Director: Stephen Smith
Stage Manager: Jojo Wallenberg
Costume Designer: Ellen Markus
Lighting Designer: Nick Chamernik
Set Designer: Jay Pastucha
Technical Director/Carpenter: Greg Korak