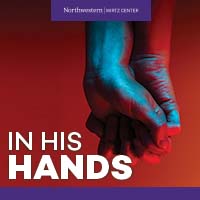 MFA Collaboration Series: IN HIS HANDS
In-Person, Indoor, New Work
Runs

Jan 28

–

Jan 30, 2022
MFA Collaboration Series: IN HIS HANDS
By Benjamin Benne
Directed by Ismael Lara, Jr.
January 28–30, 2022
Hal & Martha Hyer Wallis Theater
1949 Campus Drive
Fri., 1/28 @ 7:30 p.m.
Sat., 1/29 @ 2 p.m. & 7:30 p.m.
Sun., 1/30 @ 2 p.m.
This is a list of things Christian believes in logic, banana Laffy Taffy, video games, and Daniel. This is a list of things Christian doesn't believe in caffeine, alcohol, monogamy, and God. Daniel, a Mario
Kart wizard and aspiring Lutheran pastor, is falling for Christian. But as these men explore the
potential of their new relationship, voices from Christian's past threaten to overpower the connection they share — with one another and something bigger than themselves.