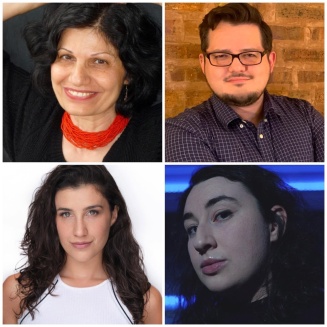 My Name Is Inanna
Drama, In-Person, Indoor, Physical Theater
Runs

Oct 23

–

Dec 11, 2021
Red Tape Theatre is proud to present the first show in our 17th season, live and back onstage.
Raw and brutal, My Name is Inanna is a passionate, lyrical story that blends myth and contemporary realities. The main character, named after Inanna, the Sumerian goddess of love, justice, and civilization, is a modern Middle Eastern woman poet and activist in search of identity and freedom. She flees the political tyranny of her home country after having been imprisoned for several years. After receiving political asylum in the U.S., land of democracy and social equality, she discovers unexpected limits to her freedom of speech as a second-class citizen. Marginalized as a pink-collar immigrant woman in the new society, she endures gender inequality, bigotry, and destitution. Seeking a new identity and justice she struggles to find her own place in the new society.
All tickets to Red Tape Theatre are brought to the public FREE OF CHARGE thanks to our Free Theatre Movement. 
Cast: Maryam Abdi* (she/her), Nathaniel Andrew (he/him), Tamsen Glaser (she/they)
Playwright: Ezzat Goushegir (she/her)
Director: Ali-Reza Mirsajadi (he/they)
Artistic Director: Max Truax* (he/him)
Producer: Aaron Arbiter* (he/him)
Stage Manager: Sam Flipp (she/her)
SM Production Assistant: Lindsey Chidester (she/her)
Production Manager: Corey Bradberry (he/him)
Assistant Director: Mel Elkouz (they/them)
Video Producer: Anna H. Gelman (she/her)
Scenic Design: Valeriya Nedviga
Lighting Design: David Goodman-Edberg
Costume Designer: Izumi Inaba*
Sound Design: Tim McNulty
Movement/Rhythm Directors & Choreographers: Anita Dariwsh (she/her) & Kathie Cantone (she/her)
Dramaturg: Yasmin Zacaria Mikhaiel (she/they)
Intimacy Director: Amanda Pulcini (she/her)
Director of Accessibility: Brenda Scott Wlazlo (she/her)
COVID Compliance Officer: Emily Nichelson (she/her)
Marketing Director: Casey Chapman* (he/him)
Associate Marketing Manager & Webmaster: Joseph Ramski* (he/him)
*indicates Red Tape Theatre Company Member