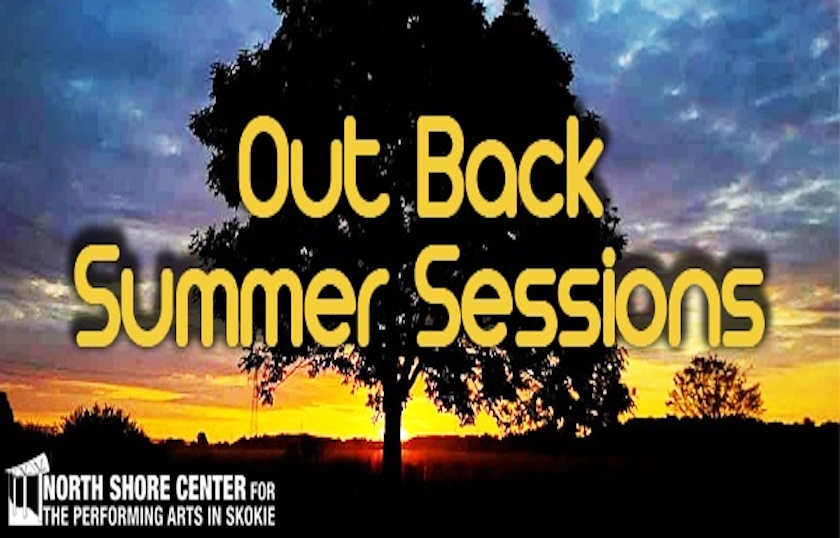 Out Back Summer Sessions
In-Person, Music, Outdoor
Runs

Jun 11

–

Aug 05, 2021
Who's hungry for a return to live performing arts? North Shore Center is looking forward to their second season of Out Back Summer Sessions in the back parking lot.
North Shore Center features the best of Chicago-based artists in a variety of performing arts genres. These concerts provide much-needed support for local artists and musicians. The Out Back concert series is a fresh-air, social-distancing way to enjoy live performing arts.
Fareed Haque Group
The Meters – Look-Ka Py Py
Friday, June 11 at 7:30pm
Fareed Haque perfectly kicks off the summer and gets those feet stomping with funky selections from the legendary New Orleans super-group, The Meters. Raised in Chicago, Fareed Haque is a modern guitar virtuoso steeped in both classical and jazz traditions.
Porchlight Music Theatre presents
New Faces Sing Broadway 1979
Saturday, June 12 at 8pm
Award-winning Porchlight Music Theatre's popular New Faces Sing Broadway series makes its North Shore Center debut with New Faces Sing Broadway 1979. Join Porchlight as a celebrity host and the New Faces, a cast made up of the next generation of talent, takes you on a musical journey from the start to the finish of the 1979 Broadway season with songs, trivia, sing-alongs and more.
Music Theater Works presents
Legends of the 50s & 60s
June 18 – 27
Nine Performances!
Join Music Theater Works for beloved hits from the 50s and 60s. This flashback performance features the songs made famous by names like Buddy Holly, Doris Day, Aretha Franklin, The Supremes, The Temptations, Elvis, and others.
Ensemble Español Spanish Dance Theater
Zafiro Flamenco Festival – 45th Anniversary
June 18, 19 & 20 at 7:30pm
Three Performances!
This Chicago-based organization. based out of Northeastern Illinois University. has performed every June at the North Shore Center for over twenty years. This year, Ensemble Español's dancers combine with special guest artists and musicians to move their passionate concerts out back to perform a suite of Flamenco dances featuring new company world premieres and audience favorites.
Come early for a special bonus: at 7pm Ensemble Español Spanish Dance Youth Company will perform and teach Sevillanas dance.
Chicago Philharmonic Orchestra
Sunday, June 27 at 7pm
Grab a date, some tasty picnic fixings and a comfortable camping chair to get out back at the North Shore Center for a delightful summer evening of classical music by our friends at Chicago Philharmonic.
Michael Ingersoll's Artists Lounge Live Presents
Silly Love Songs: Michael Mahler Sings Paul McCartney
Thursday, July 01 at 7:30pm
Award-winning actor, musician, composer and lyricist Michael Mahler celebrates Paul McCartney in a rocking tour de force. "Mahler is insanely talented." —Chicago Sun-Times
Justin Roberts & the Not Ready for Naptime Players
Saturday, July 03 at 11am
A Family Matinee Show!
Four-time Grammy nominee Justin Roberts is truly one of the all-stars of the indie family music scene. For more than twenty years, Justin has been creating the soundtrack to families' lives, crafting songs that navigate the joys and sorrows of growing up.
Northlight Theatre presents
Lettin' The Good Times Roll with Fe and Faye!
Starring Felicia P. Fields & E. Faye Butler
Friday & Saturday,
July 09 & 10 at 7:30pm
Dynamic stage divas Felicia P. Fields and E. Faye Butler star in a cabaret concert of jazz, blues, gospel and show tunes. These two powerhouse performers, supported by a stellar band, will have you rocking, reeling, laughing and shouting your troubles away.
Guy King
Joy Is Coming – Album Release Concert
with Special Guest Vocalist Sarah Marie Young
Thursday, July 15 at 7:30pm
A joyous family affair! In support of his brand-new album, the 2017 Blues Music Award nominee, Guy King is joined by singer and wife, Sarah Marie Young. A recent collaborator with Buddy Guy, Postmodern Jukebox and Chicago-band, The Oh Yeahs, Sarah is a Thelonious Monk Competition semi-finalist and won the 2011 Montreux Vocal Competition judged by Quincy Jones. Guy King plays fresh and unique music that displays his natural musical abilities and one-of-a-kind blend of Blues, Jazz, Soul and R&B. Born and raised in a small rural town in Israel, Guy is an American success story—with an awesome soundtrack. Arriving in the US as a teen, Guy explored the musical traditions in Memphis and New Orleans before his career exploded with success in Chicago.
Michael Ingersoll's Artists Lounge Live Presents
Signed, Sealed, Delivered: John-Mark McGaha Sings Stevie Wonder
Saturday, July 17 at 7:30pm
Acclaimed singer, storyteller, actor and multi-instrumentalist John-Mark McGaha celebrates the genius of Stevie Wonder live in concert. Broadway World calls his voice "crystal-clear perfection."
The Okee Dokee Brothers
Saturday, July 24 at 11am
A Family Matinee Show!
Justin Lansing and Joe Mailander have been exploring the outdoors together since they were kids. Now, as the Grammy-winning Okee Dokee Brothers, they write songs that encourage kids and families to get outside and get creative.
Chicago Philharmonic Orchestra
Sunday, July 25 at 7pm
Grab a date, some tasty picnic fixings and a comfortable camping chair to get out back at the North Shore Center for a delightful summer evening of romantic classical string quartet music by our friends at Chicago Philharmonic.
Maxwell Street Klezmer Band
A Special Performance by the full Maxwell Street Klezmer Big Band Configuration!
Thursday, August 05 at 7:30pm
The Maxwell Street Klezmer Band has charmed audiences from New York's Carnegie Hall to the Barbican Centre in London with their unique Klezmer Big Band sound. Classical sophistication crossed with theatrical fun meet in a world-class performance filled with joy, soul and good humor.