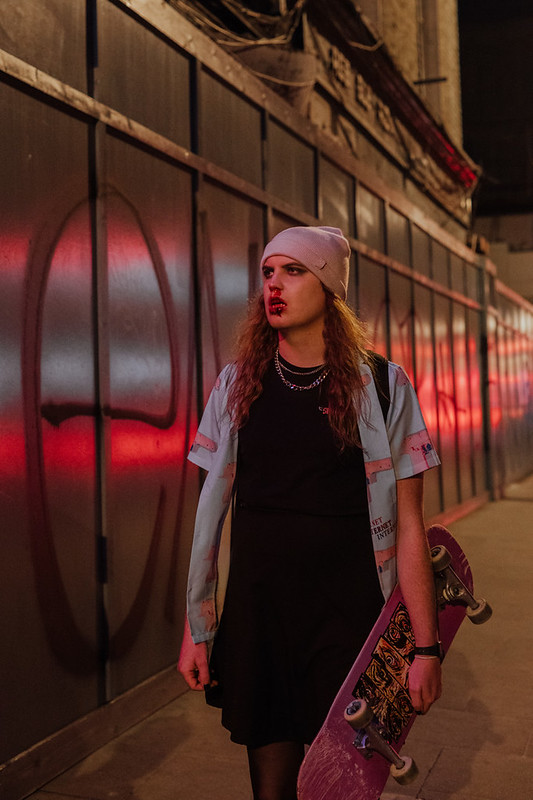 PrideArts Summer Film Festival – Week 2
The Broadway
4139 N. Broadway
Chicago, IL 60613
Virtual
Eight short queer-themed films from the US, Canada, and Ireland.
DON'T TEXT YOUR EX (Canada, 13:52). Directed by Jo Güstin.
Surviving a global pandemic being queer, cute and still in love with your ex.
SASHA & MAR (USA, 9:16). Directed by Anya Dombrovskaya.
Tensions arise between two young women after a night one of them cannot quite recall.
LOOSE THREADS AND THE SILLY LITTLE EXORCISM (USA, 4:10). Directed by Jacqueline Hillebrecht.
In a world where soul mates are connected through the mystical red thread of fate, a young trans woman named Emma will do anything to win the heart of Katie – her best friend.
HEAVY PETTING (Canada, 17:30). Directed by Brendan Prost.
An eerie bifurcated character drama about a queer encounter between two lonely cat enthusiasts, and a macabre test of one's social obscurity.
PUNCH LINE (Ireland, 10:14). Directed by Becky Cheatle.
On the eve of a transphobic attack, a transgender comedian processes her feelings the only way she knows how: through stand-up comedy.
THE SUN COMES UP (USA, 20:00). Directed by Rachel S. Schultz.
Following her mother's sudden death in the middle of her senior year of college, Jordan struggles to come to terms with the complicated relationship they had while trying to complete her honors thesis and pursuing a new love.
WEREWOLF (4:37)
Directed by Angelo Duncan and Mason Rose
Transgender darkwave/goth artist, A.S. Valentino's debut music video "Werewolf" shot by Portland-based Mason Rose and starring an all-queer and trans cast explores the connection between trans people and monsters in the public imagination – as objects of fear and fascination. The video parallels Valentino's own transition to the shapeshifting of werewolves, gaining new hair, muscle, and strength.
A FEAST THAT NEVER COMES (16:22)
Directed by Maria Juranic
Four characters inhabit cycles within cycles of contentment, discontentment, inertia, movement, desire, and betrayal. A story emerges—told through the marriage of music (Ex-Fiancée) and dance (ChrisMastersDance)—functioning as a set of nesting dolls, inviting you to uncover as many layers as you wish.