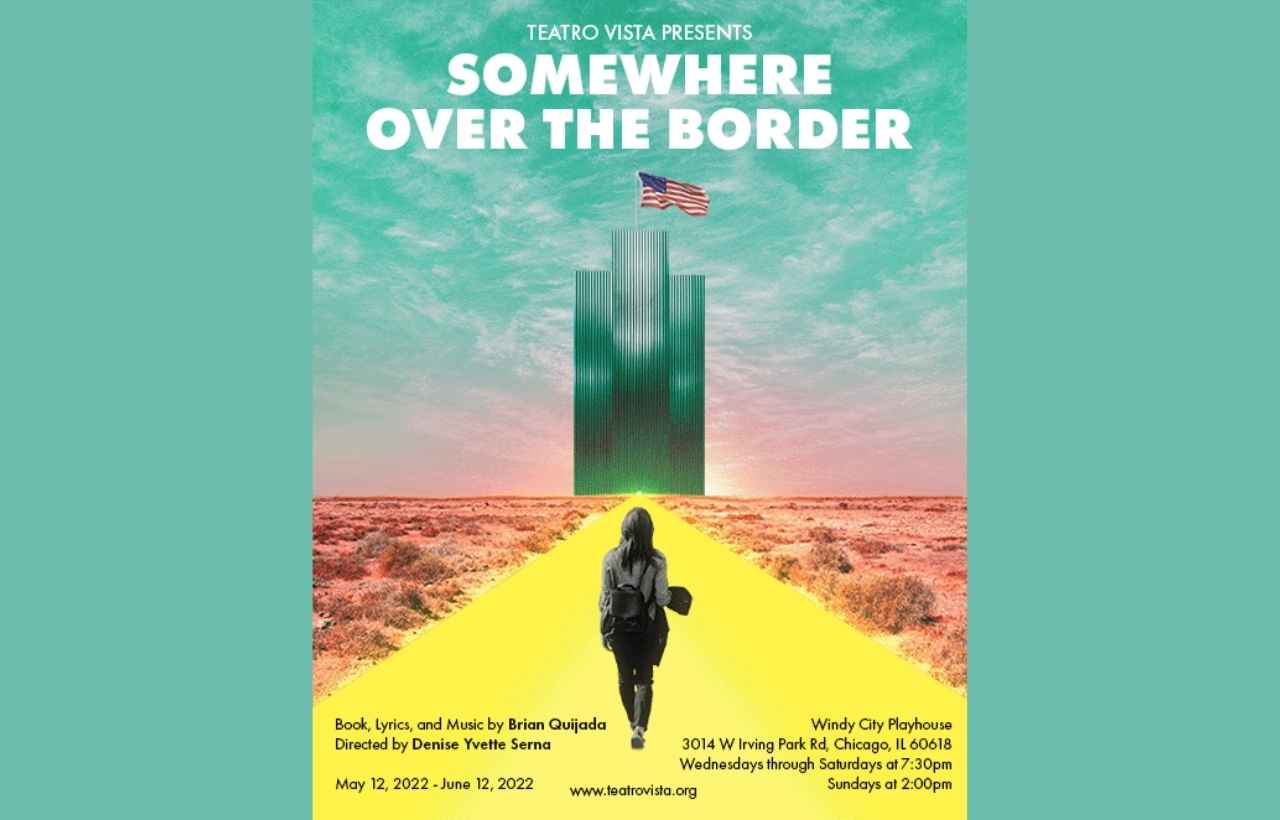 Somewhere Over The Border
Musical, New Work
Runs

May 12

–

Jun 12, 2022
Teatro Vista presents Somewhere Over The Border with Book, Lyrics and Music by Brian Quijada, directed by Denise Yvette Serna.
Inspired by the real life journey of the author's mother (Reina Quijada) from El Salvador to the US and by L. Frank Baum's The Wonderful Wizard of Oz, Somewhere Over the Border embraces the factual and the fantastical in its depiction of one young girl's pursuit of the American dream. As Reina travels north to the Mexican border, she gathers friends, faces down dangers, and holds tight to the memory of the little boy she left behind. Set in the 1970s and propelled by Cumbia, Mexican Mariachi Boleros, American Rock and Hip Hop, this new musical is both fable and family history—and a testament to the determination born of love.
The company features Gina Cornejo (Julia), Andrés Enriquez (Silvano/Don Napo), Amanda Raquel Martinez (Antonia/Leona), Gabriela Moscoso (Reina), Brian Quijada (Narrator) and Teatro Vista ensemble member Tommy Rivera-Vega (Cruz/Adan). Our Cover company features Ulysses Espinoza, Laura Quiñones and Karla Serrato. Yendrys Cespedes (Co-orchestrator) will lead a full Latine band.
The creative team includes Teatro Vista ensemble member Ayssette Muñoz (Associate Director), Thee Ricky Harris (Music Director), Kasey Alfonso (Choreography), Yvonne Miranda (Scenic Design), Sarah Albrecht (Costume Design), Stefanie Senior (Sound Design), Diane Fairchild (Lighting Design), Liviu Pasare (Projection Design), Lonnae Hickson (Prop Design) Grace Needlman (Puppetry Design), Kristin Leahey (Dramaturgy), Adelina Feldman-Schultz (Casting), Jennifer Aparicio (Production Manager), Johnnie Schleyer (Technical Director), Kyle Jensen (Sound Design Assist), Issac Mandel (Audio Supervisor/Sound Engineer), Julián Mesri (Co-orchestrator), Sara Pool Wilhelm (Music Copyist), Madeline Scott (Stage Manager), Maurilio Rodriguez (Assist. Stage Manager) and Olivia Sullam (Assist. Stage Manager).