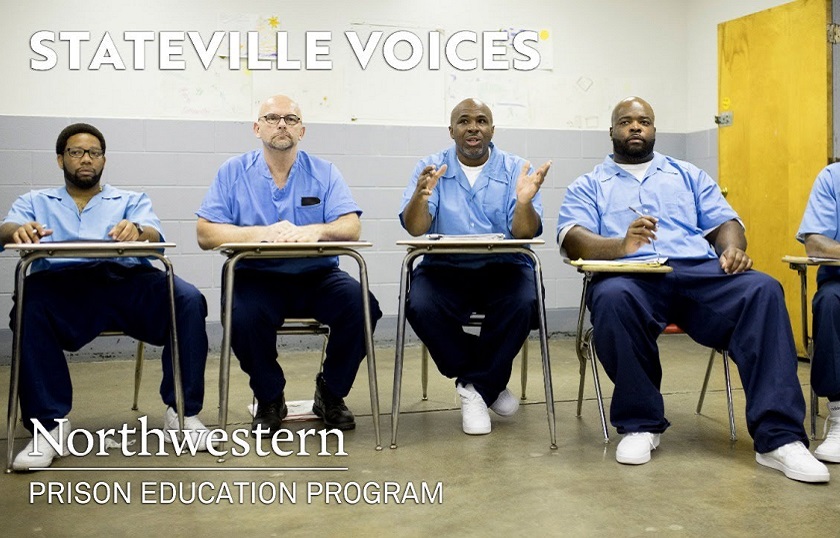 Stateville Voices
Virtual
Runs

Aug 05

–

Sep 30, 2020
A Festival of Short Plays from the Northwestern Prison Education Program on Facebook, YouTube and GoodmanTheatre.org/Stateville.
In the spring of 2019, through the Northwestern Prison Education Program (NPEP), playwright and Goodman Artistic Associate, Rebecca Gilman, taught playwriting at the Stateville Correctional Center in Crest Hill, IL. The students embraced their first playwriting class and, for their final projects, each wrote a short play. Ranging from comic to tragic, the plays tackle subjects as unique, original, and inspiring as the men who wrote them.
Prior to the COVID-19 shutdown, we planned to offer three live performances of the Stateville Voices plays: one at the Goodman, one at Kennedy-King College and one at Stateville. We still intend to present live readings at the Goodman and Kennedy-King once it is safe to do so. We also want to take the plays to Stateville when the prison is no longer on lockdown.
However, given that the population at Stateville has been one of the hardest hit by COVID19 in the country, we felt it was urgent to present a live virtual event featuring some of the Stateville Voices plays as well as a panel discussion looking at what life is like at Stateville at the present moment.
The live virtual event will take place on July 3rd. The virtual readings of Andre Patterson's Parameters of Closeness, Taurean Decatur's Ain't Nothing Like Quality Time and Antonio McDowell's Comic Books and Candy will all be directed by former Maggio Fellow, Sydney Chatman.
We will also produce audio recordings of four additional plays and the links will be posted on the Goodman's website. Chatman, a former Goodman Maggio Directing Fellow, will direct all six plays.
We look forward to the day we can gather in person and present all 21 short plays, as planned, at the Goodman and at Kennedy King College. Until then, we're offering this smaller selection of plays to draw attention to and celebrate the Stateville students and the mission of NPEP – to transform lives through education.