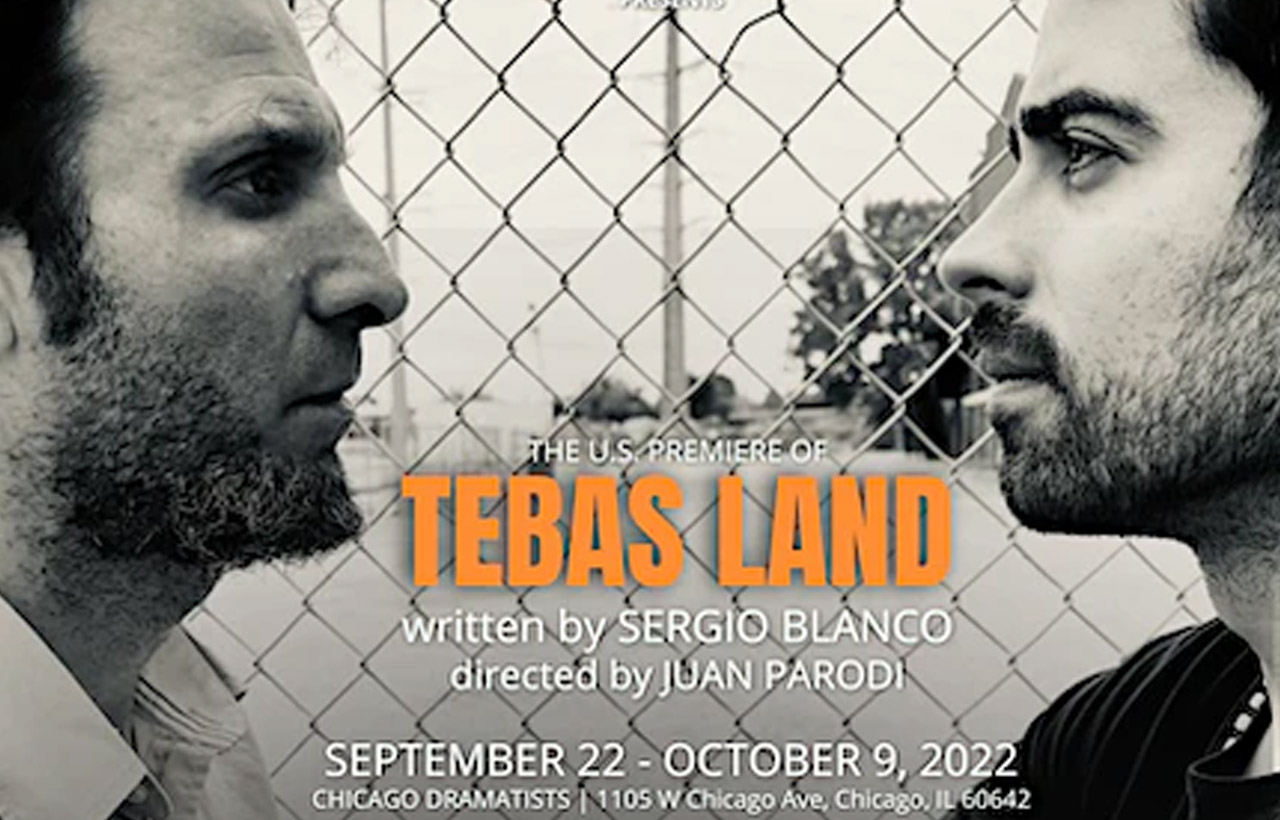 A co-presentation with the National Museum of Mexican Art
Tebas Land
As part of Destinos Chicago International Latino Theater Festival
Drama, Espanol
Runs

Sep 22

–

Oct 09, 2022
Taking the figure of parricide as its central theme, Tebas Land is inspired by the myth of Oedipus, the life of the fourth-century European saint St Martín, and a legal file created and imagined by Blanco in which the trial of a young parricide named Martín Santos is narrated. From the different encounters this young parricide and a playwright who wants to write his story have in a basketball prison court, Tebas Land will gradually concern itself not so much with the reconstruction of the crime, but with the scenic representation of the encounters between the two characters. Thus, the initial question that opens the piece: "how is it possible to kill someone?", will be replaced by the final question: "how is it possible to represent someone?" Tebas Land thus moves away from the ethical dimension of parricide to concentrate on the aesthetic possibilities of its representation and to finally be able to offer us a beautiful thesis on the theatrical event.
Tomando como tema central la figura del parricidio, Tebas Land se inspira en el legendario mito de Edipo, en la vida del santo europeo del siglo IV San Martín y en un expediente jurídico creado e imaginado por el propio Blanco en el cual se narra el juicio de un joven parricida llamado Martín Santos. A partir entonces de los distintos encuentros que mantienen en una cancha de básquetbol de una prisión, este joven parricida y un dramaturgo que busca poder escribir la historia de dicho parricidio, Tebas Land irá poco a poco preocupándose no tanto de la reconstrucción del crimen, sino de la representación escénica de los encuentros entre ambos personajes. De este modo, la pregunta inicial que abre la pieza: ¿cómo es posible matar a alguien?, será reemplazada por la pregunta final: ¿cómo es posible representar a alguien? Tebas Land se aleja así de la dimensión ética del parricidio para concentrarse en las posibilidades estéticas de su representación y poder finalmente ofrecernos una bella tesis sobre el acontecer teatral.
Performed in Spanish with English subtitles.
Cast:
Tommy Rivera-Vega
Esteban Schemberg
Written by: Sergio Blanco
Directed by: Juan Parodi