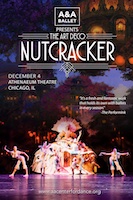 A&A Ballet presents
The Art Deco Nutcracker
Athenaeum Theatre
2936 N. Southport Ave.
Chicago, IL 60657
Children's/Family, Dance, Holiday, In-Person, Indoor
All ages. Performance lasts 1 hour 45 minutes plus a 20-minute intermission.
Set in 1920's America, A&A Ballet's The Art Deco Nutcracker, featuring Tchaikovsky's beloved score, is a fresh, yet traditional take on the beloved holiday favorite with a sumptuous costume and set design inspired by the unique sophistication of the Art Deco era.
The Art Deco Nutcracker is Alexei Kremnev's eighth full-length ballet. His work has been presented at the world-renowned Bolshoi Theatre in Moscow, Lincoln Center in New York, and the Opernhaus Zurich in Switzerland, among other prestigious venues across the globe. The Huffington Post describes his choreography as "encompassing the best and brilliance of what movement can be while breaking boundaries of what we know."
More praise for <i>The Art Deco Nutcracker:
'It's a fresh and fantastic work that holds its own with ballets in every season.' (PerformInk)
'A glossy rendition filled with "gorgeous, glitzy costumes" and an "impressive cast"'(The Chicago Tribune)
​'One of the most endearing introductions to this classic as you're likely to find.' (The City Pleasures)
'It is impossible to find one word that summarizes Kremnev's choreography: It is everything, encompassing the best and brilliance of what movement can be while breaking boundaries of what we know.' (The Huffington Post )