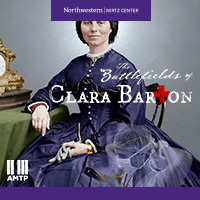 The Battlefields of Clara Barton
In-Person, Indoor, Musical
Runs

Oct 29

–

Oct 31, 2021
THE BATTLEFIELDS OF CLARA BARTON, a workshop production
In partnership with the American Music Theatre Project
By Suzan Zeder & Jenn Hartmann Luck
Directed by Rives Collins
October 29–31, 2021
Josephine Louis Theater
20 Arts Circle Drive
Fri., 10/29 @ 7:30 p.m.
Sat., 10/30 @ 7:30 p.m.
Sun., 10/31 @ 2 p.m.
Ticket Info: https://wirtz.northwestern.edu/2021-2022-season/
The Battlefields of Clara Barton is a modern folk/rock musical about the vibrant life of Clara Barton, a Civil War nurse, a political activist, and a revered founder of the American Red Cross. In a tumultuous life that spanned almost a century, Clara fought on many battlefields: historical, political, and emotional. Brought to life by an ensemble of women playing multiple roles where age and gender are fluid, the threads of Clara's story run from past to present with seamless synchronicity, creating a rich tapestry of themes as personal and potent today as they were then.
Since 2017, The Battlefields of Clara Barton has been under creative development here at
Northwestern University, the University of Texas, and the Austin Playhouse at the Paramount Theatre in Texas. This workshop brings Northwestern's MFA and undergraduate programs together to develop the theatrical world of a brand-new musical, all with the writers in the room providing feedback throughout the month-long process. The creative team will elicit audience reactions after each performance to refine the piece before its ultimate premiere.