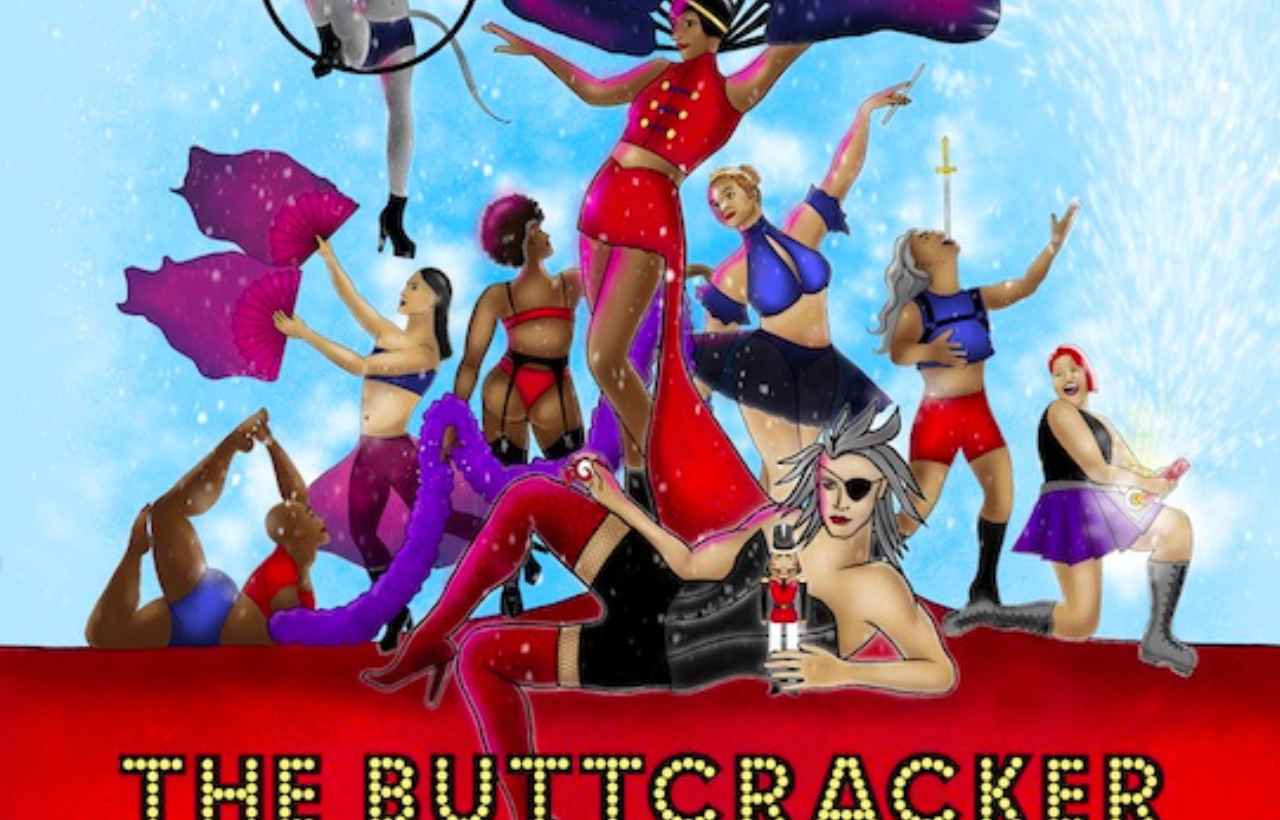 The Buttcracker: A Nutcracker Burlesque
Cabaret, Comedy, Holiday
Runs

Nov 30

–

Dec 30, 2023
"The Buttcracker takes it off to reveal a heart of gold!" – Chicago Reader, Recommended
Highlighting the world of burlesque, boylesque, magic, sword balancing, circus, dance, and more, celebrating seven years as one of Chicago's favorite alternative holiday shows! The Buttcracker returns November 30th-December 30th at the Greenhouse Theater Center!
Clara is an office admin, delegated by her boss to throw the office holiday party. But when she hires Drosselmeyer, an over-the-top nightlife performer who quite literally shocks the pants off her colleagues, she loses her job and her sexy confidence. Determined to help her realize her sensual self once more, Drosselmeyer gives her the gift of a Buttcracker…with something special lodged in the mouth! Thus begins her hallucinogenic trip to the Land of the Sweets where she battles rats, saves her Buttcracker and the Sugar Bum Fairy, and remembers that body and sex positivity are to be celebrated!
Check out more about the show by following this link to our website!
Run Time – 1 hr. 45 min with one 15 min intermission
18+ Only, 21+ to drink
Please help us help others this year by bringing canned food good, toiletries, menstruation needs, and other similar items for our goods drive!
Cast
Amelia Roque (Clara); KazMo Universe (The Buttcracker); Harlem Nyte (Drosselmeyer); Chaotika XO (Sugar Bum Fairy); Kitty LaRoux (Boss/Rat King); A'Keisha Lee (Ensemble); Michael Eos (Ensemble); Jennifer Mohr (Ensemble); Gal Strapp (Ensemble); Ranch DuBois (U/S Rat King/Ensemble); Batty Page (U/S Ensemble).
Production Team
Sarah Scanlon, Director
Willy LaQueue, Choreographer
Michelle Isaac, Composer
Brighid Martensen, Costume Designer
Gabrielle Strong, Scenic Designer
Samuel Stephen, Lighting Designer
Rowan Doe, Props Designer/Asst. Scenic Designer
Joe Court, Sound Engineer/Programmer
AJ Sacco, Magic Consultant
Galen Hughes, Stage Manager
Carli Shapiro, Backstage Manager
Erik Tylkowski, Production Manager
Jaq Seifert, Artistic Producer/Director of Marketing
Mocha Mocha 2.0, Associate Producer
Jezzibel Aries, Company Manager
Sio Bast, Featured Soloist Curator
Elizabeth Monti, Merchandise Manager
Caylei Hallberg, Producing Assistant/Social Media Manager
Ryan Dygert, Technical Director
Hannah Wein, Assistant Lighting Designer
Andrea White, Wardrobe
Zia Lighting, Graphic Designer