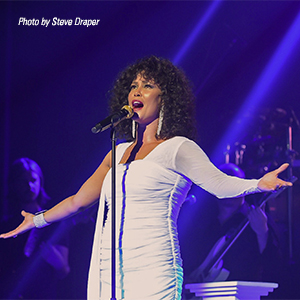 The Greatest Love of All: A Tribute to Whitney Houston starring Belinda Davids
Pfeiffer Hall
310 E. Benton Ave.
Naperville, IL 60540
Music, Performance Art
For accomplished South African songstress Belinda Davids, her role in The Greatest Love of All starring Belinda Davids is a serendipitous culmination to her life-long connection with Whitney Houston. Growing up as a young 'coloured' girl in South Africa in the turbulent 80s, dreaming not only of a singing career but of respect and dignity as an artist, a woman, and a human, Whitney Houston was a symbol of hope to Belinda. Their similar musical backgrounds – both exposed largely to R&B and gospel as children and both taught to sing in the church – meant Belinda was innately drawn to Houston's musical style also. From the earliest seeds of Belinda's career when she began singing professionally at age 14, Houston's influence was omnipresent; "I think I've sung at least one Houston track in almost every live show I've ever performed," says Belinda. Now after six years touring almost exclusively with The Greatest Love of All and building it into an international hit, Belinda counts appearances on Fox TV's "Showtime at the Apollo" and BBC TV's "Even Better Than the Real Thing" among her career highlights along with working with the National Philharmonic Concert Orchestra, performing at London's iconic Hammersmith Apollo theatre and gaining viral views of some of her performance videos (over 12 million views and counting). Plans for 2019 include confirmed tours with The Greatest Love of All in Australia, New Zealand, and Ireland, a much-anticipated return to the US, and orchestral concerts in the UK and South Africa, along with, undoubtedly, more highlights and achievements to come.
Call us at 630-637-7469 or buy your tickets Here
Venue: Pfeiffer Hall
310 E. Benton
Naperville, IL 60540