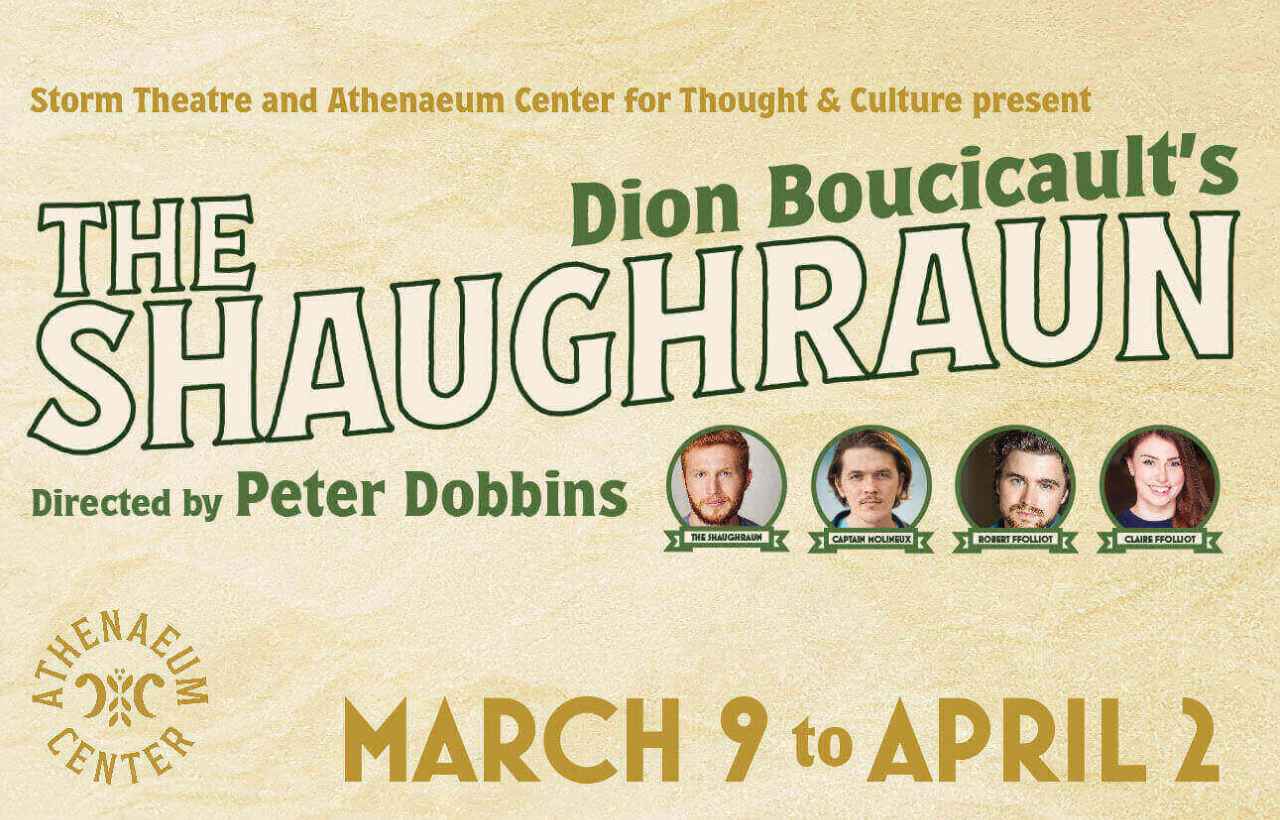 In Co-Production with Storm Theatre
The Shaughraun
Comedy/Drama
Runs

Mar 09

–

Apr 02, 2023
Rising rents & homelessness, forbidden love, class tension! This seminal work of Irish theatre explores these themes and more through the comical, dramatic, and outlandish tale of a village vagabond in rural Ireland.
Last staged in Chicago in the 1800s, now reprised by NYC's Storm Theatre and a stellar cast of Chicago actors, The Shaughraun is filled with romance, adventure, and uproarious comedy.
The play was one of the most popular plays of the 19th century and is credited with giving birth to Irish Theatre, with Boucicault's work influencing George Bernard Shaw, John Millington Synge, Sean O'Casey and Anton Chekhov. Written at a time when celebrated Irish authors of the day wrote almost exclusively for an English audience, this play marked a turning point for Irish theatre, where playwrights now wrote for their own people, to celebrate and embrace their heritage and culture!
Cooper Bohn as Conn (The Shaughraun)
Jack Burr as Corry Kinchela
Andrew Lachlan Cawley as Robert Ffolliott
Teagan Earley as Bridget Madigan
Amelia Finefrock as Nancy Malone
Madysen Frances as Moya
Austin Tyler Heemstra as Captain Molineux
Jimmy Ladd as Harvey Duff
Dane Larson as Reilly, Doyle
Chris Lysy as Sullivan
Nora McKirdie as Arte O'Neal
Maurice McNicholas as Father Dolan
Georg Petermeier as Donovan
Sarah Seidler as Claire Ffolliot
Denise Smolarek as Mrs. O'Kelly
Emily Landreth as Sarah Brady
Alex Poe as Sgt. Jones/Mangan
Creative Team
Artistic Director, Director Peter Dobbins
Associate Artistic Director, Assistant Director Fleur Phillips Dobbins
Production Manager, Lighting Designer Michael Abrams
Dialect Coach Paul Anthony McGrane
Costume Designer Grace Onofrey
Sound Designer Averi Paulsen
Scenic Designer Grey Smith
Fight Direction Violent Delights (Amber Wuttke & Jay Donley)