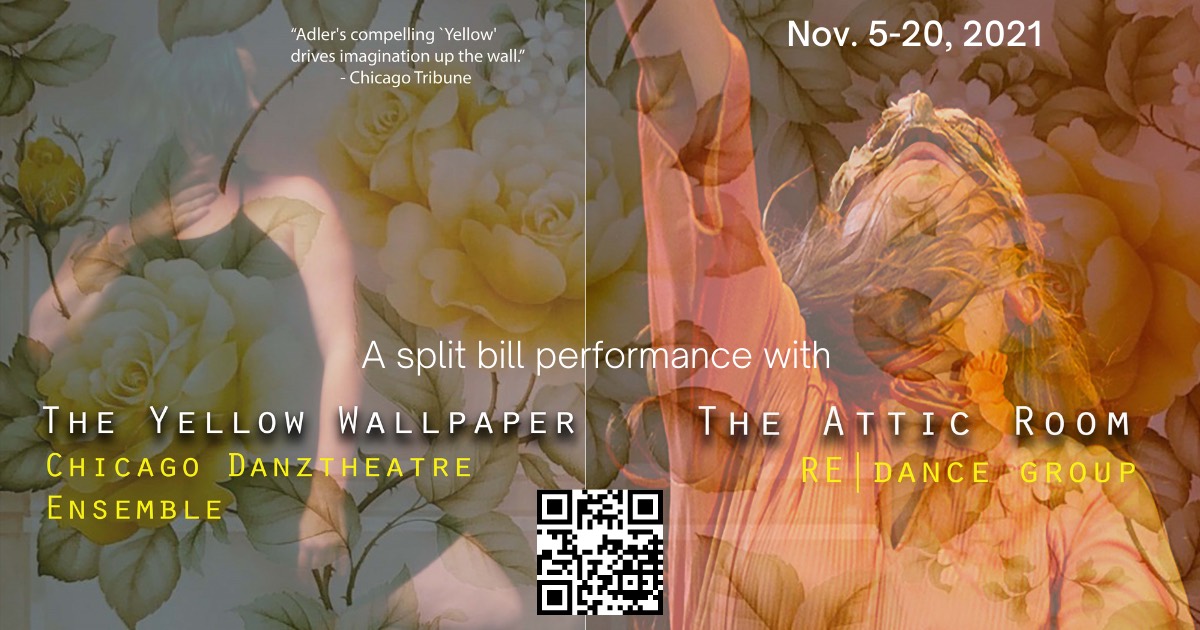 The Yellow Wallpaper
A split bill with RE Dance Group
In-Person, Indoor, New Work, Physical Theater
Runs

Nov 05

–

Nov 20, 2021
Adler's compelling `Yellow' drives imagination up the wall  Adler capably weaves together stinging snippets of text and the suggestion of one woman's world unraveling in almost lyrical measures- Chicago Tribune
Come back to the theater this fall with a split bill with
Chicago Danztheatre Ensemble & RE Dance Group.
This will officially kick of CDE's two-year retrospective celebrating 20 years of creating innovative and socially conscious danztheatre work.
Chicago Danztheatre Ensemble remounts "The Yellow Wallpaper," based on Charlotte Perkins Gilman's 1890 short story and reinterpreted for a 2021 pandemic landscape. As a woman in postpartum depression also battles her own rapidly vanishing sanity, her physician husband gives her the "rest cure." In her bedroom, she fixates on the wallpaper patterns, which transform into other trapped women who reflect her despair through monologues and dance. Feelings of mental and physical isolation will resonate with audiences still reeling from COVID-19.
RE|dance Group performs "The Attic Room," choreographed by Michael Estanich. "The Attic Room" is an intimate dance story of escape and desire. The dance theatre work for seven dancers reveals the thin line between resignation and hope. Images unfold through sharp dancing and poetic text in a space filled with the forgotten memories of the past.
Each production in CDE's return to the stage will include an art gallery reflecting the show's particular themes.
The gallery opens at 7:30 p.m. and closes 30 minutes after the performance ends. Also in the gallery area will be representatives of Chicago organizations that complement and expand on the subject matter of each performance.
COVID PROTOCOL FOR ALL PERFORMANCES
Following current guidelines from federal, state and local government and its agencies, audience members must show proof of vaccination and wear a mask at all performances. All performers and participants in this CDE performance are vaccinated and will perform without masks.