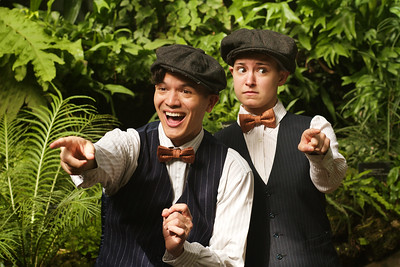 Twelfth Night
Classic, Comedy, Holiday
Runs

Dec 01

–

Dec 18, 2022
Midsommer Flight's seventh annual holiday season staging of Shakespeare's comedy in the beautiful Lincoln Park Conservatory.
The twins Viola and Sebastian, travelling to Elyria by sea, are separated in a storm that wrecks their ship. Viola, after landing safely in Elyria, poses as a man in order to find work – causing much romantic confusion when her new employer, Duke Orsino, finds himself somehow attracted to this new employee. Meanwhile, the Countess Olivia, who the Duke wants to marry, becomes interested in Viola, believing she is a man.  Olivia's servant, Malvolio, imagines he can become a nobleman, but his ambitions are thwarted by the machinations of court members Sir Toby Belch, Sir Andrew Aguecheek, and the servant Maria.
The performance is pay-what-you-can. $30 donation is suggested. Reservations are highly recommended.
By William Shakespeare
Directed by Bex Ehrman