Visit the Main Chicago Theatre Week Website
Presented by the League of Chicago Theatres in partnership with Choose Chicago, the eighth annual Chicago Theatre Week will take place February 13-23, 2020. The $15 and $30 value-priced Theatre Week tickets are ON SALE NOW at the main CTW website – ChicagoTheatreWeek.com.
Remember, with awe-inspiring theatre happening year-round and half-price deals at Hot Tix, there's no need to limit your theatre adventures to February! Home to a community of creators, risk-takers, and big hearts, Chicago theatre is a hotbed for exciting new work. The spirit of Chicago theatre is found throughout our neighborhoods, from downtown venues to behind the storefronts, in a diverse collection of over 200 dynamic theatres. Theatre is where Chicago bares its fearless soul.
2020 Chicago Theatre Week Presenting Sponsors:
2020 Chicago Theatre Week Hotel Partner: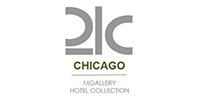 Questions? Please email ctw@chicagoplays.com. If you are a theatre or performing arts organization looking to participate in Chicago Theatre Week, contact Hayley Ross, Advertising and Marketing Manager, at hayley@chicagoplays.com.