NO OTHER THEATRE IN THE WORLD IS QUITE LIKE CHICAGO THEATRE
It's real, elevated to an intensity you cannot turn away from. Even on your first visit, you can feel it. From joy to heartache and every feeling in between, Chicago's exceptional ensemble of talent provides exhilarating experiences that make audiences come alive.
Rising from a city of innovators, risk-takers, and big hearts, Chicago theatre is a hotbed for exciting new work and hundreds of world premieres every year. From Broadway musicals to storefront plays and improv, the spirit of the city can be found in our 200+ theatres.
To truly fall in love with Chicago, you must experience our theatre. This is where the city bares its fearless soul.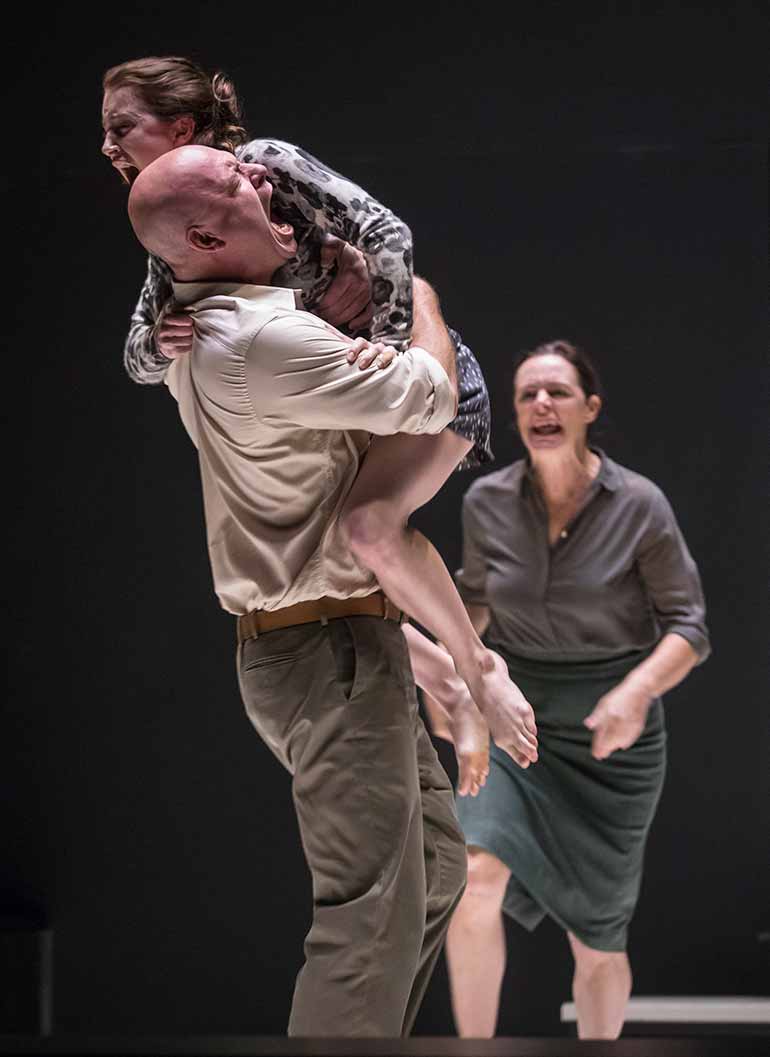 The City of Chicago and the League of Chicago Theatres have designated 2019 as the Year of Chicago Theatre. This citywide, year-long focus on theatre is the first of its kind in the U.S. and features performances and special events throughout the city – including theatre-themed events in all 77 community areas, as part of the Chicago Park District's 'Night Out in the Parks' series. There will be increased marketing support for Chicago theatres; additional financial grants for theatre projects; more dialog around inclusion and equity; and a call for civic, philanthropic, arts, and business leaders to support the theatre community.
See What's On Stage Now
The spirit of Chicago theatre is found in all of our neighborhoods, from downtown theatres to behind the storefronts, in a diverse collection of over 200 dynamic theatres. From musicals to plays to comedy, theatre is for everyone in Chicago.
Share Your Theatre Experiences:
To truly fall in love with Chicago, you must go to our theatres. This is where the city bares its fearless soul. 2019 is the Year of Chicago Theatre. Shows and tickets:
WTTW Stage Players Series
In honor of the Year of Chicago Theatre, WTTW is creating short video profiles of people who make the Chicago theatre scene come to life. Watch and learn more about Chicago's awe-inspiring theatre community. Learn More
More Year of Chicago Theatre Happenings
In addition to all of the incredible theatre to see during 2019, we also encourage you to check out these YOCT-related programs and initiatives.
The spring program for Art on theMART is a commission in alignment with the Year of Chicago Theatre featuring a work by renowned lighting designer John Boesche. The second commission (coming soon!) in alignment with the Year of Chicago Theatre will be a result of a collaboration between scenic designer John Musial and Lucky Plush Artistic Director Julia Rhoads. Projections begin 15 minutes after sunset Wednesday – Sunday and are best viewed on the Chicago Riverwalk between Wells and Lake St.
Open through June 23, 2019. Throughout the 23 years of its existence (1986–2009), the work of the Chicago-based Goat Island was built slowly in a creative process informed by repetition, chance, and individual perception. Their democratic, shared activations continue to influence generations of artists, theatre makers, cultural theorists, and social philosophers. In conjunction with the city's Year of Chicago Theatre, nine national and international performance groups and artists have been commissioned to develop and present new work, each inspired by one of Goat Island's original performances.
To celebrate the Year of Chicago Theatre, this new monthly series from the Lincoln Park Chamber of Commerce showcases theatres in the Lincoln Park neighborhood. Each month, Lincoln Park neighbors and visitors are invited to explore one of the neighborhood's amazing theatre companies.
In addition to offering half-price theatre tickets online and at Loop locations, Hot Tix is partnering with McCormick Place during the Year of Chicago Theatre to offer half-price theatre tickets for select events and conventions. Visit the Hot Tix Locations page to see what's next!
Explore Edgewater's incredible theatre with the Theatre District Passport. Just like a coffee shop punch card, the Theatre District Passport can be stamped each time you see a play, and after 5 stamps the 6th play will be free! The Theatre District Passport program is only valid with participating locations. Also, take the pledge to watch (at least) one play or performance in the Edgewater Theatre District this year.
Peek behind the curtain in the Loop's most unexpected places with ACTIVATE: Backstage. In celebration of the City of Chicago's Year of Chicago Theatre, join Chicago Loop Alliance for a series of 4 summer nights inspired by the art of performance. Experience interactive art, live music, and immersive audience participation in unusual urban spaces around the Loop. Find the dates and RSVP here.
To celebrate 2019 as the Year of Chicago Theatre, this year's series, which takes place on Tuesdays June 4 – August 20, will co-present each film with a select Chicago theatre company, providing a season-long sampling of themes, ethnicities, and genres to reflect the city's rich passion for the arts in all its variety. DCASE has partnered with 13 local theatre companies to co-produce this summer's film series. Companies include About Face Theatre, Aguijón Theater, Black Ensemble Theater, Chicago Children's Theatre, Chicago Shakespeare Theater, Court Theatre, eta Creative Arts Foundation, Free Street Theater, Goodman Theatre, Lookingglass Theatre Company, Rivendell Theatre Ensemble, Steppenwolf Theatre Company, Teatro Vista and Victory Gardens Theater.
Take pride in the unique, risky, bold, and incredible new work happening on Chicago stages year-round. Each monthly Theatre Thursday event features an inside look at the creative process behind a never-before-seen production. See a world premiere each month!
An upcoming Design Museum of Chicago exhibition at Expo 72. More details coming soon!
From Riverwalk Lantern Processions this summer to the Halloween Parade on October 19, these special events featuring theatre groups and artists are designed to highlight Chicago's diverse cultural landscape.
#2019isYOCT  |  #ChiTheatre