There's nothing like the awe-inspiring feeling of the lights going down and the collective excitement as the show begins. Chicago's theatre community has been eagerly waiting to welcome you back to the theatre.
Experience Chicago's fearless soul once again.
Don't miss what's on stage right now and see what shows are coming up at your favorite Chicago theatres. Keep coming back for more!
Welcome back to the thrill of live theatre!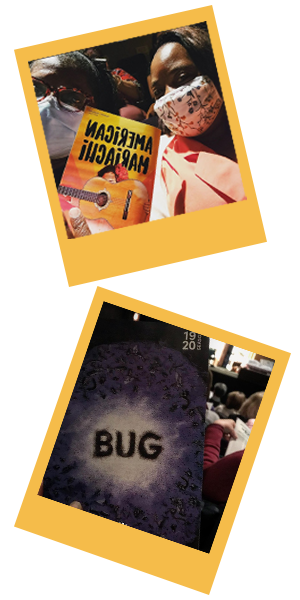 Share your experience back at the theatre!
How long has it been since your last show?
What have you missed about the theatre?
How does it feel to be back?
Take a photo *from your seat* at your next theatre experience and share your perspective on how it feels to be back in the audience. 
Use the hashtag #FromMySeat and tag @ChicagoPlays when sharing your selfie or a photo of your program book on social media.
We can't wait to see and hear about your return to the theatre.
Open Now
Click an image to see what's on stage now or coming soon at a particular theatre. To view all of the League of Chicago Theatres' member organizations, click here.
---
---
Opening Soon
The theatres listed below have announced upcoming reopening dates! Click on the company name to view their upcoming shows. For all of the League of Chicago Theatres' member organizations, click here.
---
Chicago Theatre Week 2022
Theatre is back! Experience the thrill of live theatre for just $15 or $30 (or less!) from February 17 – 27, 2022.
Take Note
COVID-19 vaccination and mask requirements may vary by venue. Venue-specific restrictions can be found on the organizations' respective websites. We recommend checking with the theatre before purchasing tickets and prior to attending a show to confirm their current mask and vaccination policies.
Dates are subject to change.
Sign up to receive our emails and stay updated on Chicago theatre!